Introduction
cTrader ID (cTID) is a set of credentials used for signing in across all cTrader platforms across different brokers by using a single unified account.
Traders often use several trading accounts with one or several brokers.
cTrader ID is a single profile that allows signing in with the unified credentials to any broker's version of cTrader and switching between the trading accounts with one click without the need of entering the account number and password combinations each time.
You only log in once with your email and password (or with your Google or Facebook account), and all your trading accounts are available from your cTrader ID.
A cTrader ID is different from a trading account and it's important to understand the difference. A cTrader ID is a username and an associated password.
As the username is linked to an email address you may use either the email address or username to sign in with the password.
A trading account number is a seven-digit number used for logging into your trading account with a broker.
A trading account can only be used with the specific broker it belongs to.
Multiple trading accounts can be linked to a single cTrader ID for easy access and fast switching between them.
It is simpler to use a cTrader ID because you use your email address or username and a single password.
You may have several trading accounts made up of different random numbers and with different passwords, a single cTrader ID is far more convenient.
After logging in with your cTID to any cTrader version, you get the instant access to all your trading accounts with the corresponding broker, as well as workspaces, watchlists, email settings, price alerts, copying accounts, and much more.
Your cTID credentials are securely held at dedicated servers with the highest level of encryption to provide you with a safe trading environment wherever you are.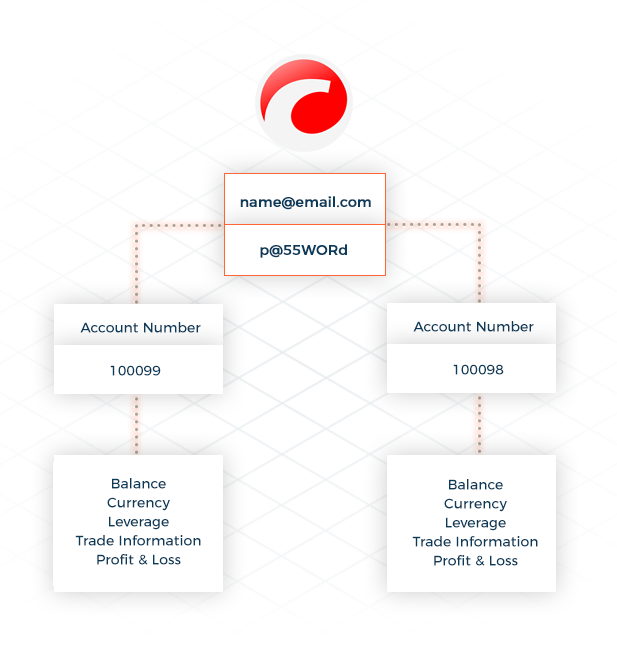 This diagram shows the connection between a cTrader ID and Trading Accounts.
A cTrader ID holds access to your Trading Accounts.
Your trading accounts hold details related to trading and they are specifically for using cTrader with your broker, they hold information such as your account balance, deposit currency, leverage, open positions, pending orders, and historical trade information.
Note
A Trading Account is specific to the broker it was created with, and can only be used in their version of cTrader.
Characteristics¶
This table highlights the different characteristics between a cTrader ID and a Trading Account.
| cTrader ID | Trading Account |
| --- | --- |
| Can be used with any broker and in any cTrader platform. | Belongs to a broker, can only be used in the respective broker cTrader platforms. |
| A chosen username or your email address that you can change at any time. | A seven digit unique random number that you cannot change. |
| Does not store any trading or financial information. | Contains all trading and financial information about your account with the respective broker. |
---
Last update:
December 6, 2023