Sharing Deals¶
Traders have always lacked a handy functionality to share deals history in a comprehensive and appealing format. The sharing deals feature in the cTrader app on Android allows you to instantly post your achievements as a trader across all social platforms. It will both serve as eloquent proof of your successful deals and build your professional reputation.
Custom snapshots generated by the mobile app contain all essential information, including the traded symbol, net P&L realised by the closing deals, traded direction, duration, volume, and other details. This guide will introduce you into how to create and share opening and closing deals on your Android device.
Sharing Deals in One Minute!
The sharing deals feature on the cTrader app offers handy infographics for promoting yourself across all social media platforms in just a few taps.
Your trading achievements are both visualised and tracked as comprehensive snapshots. As a result, your confidence and public reputation are boosted.
For partially closed and closed positions recorded in the app history, you simply need to tap on the sharing button in the deal card on an Android phone.
The summary of shared deal(s) reflects all necessary information, including net P&L, pips, duration, fees, direction, quantity, with a candlestick chart reflecting bid prices. A QR enhances the UX leading your audience directly to the platform and simultaneously attributing traders to you in cTrader Invite.
Benefits of the Sharing Deals Feature¶
Promote yourself! Other stakeholders will see how successful you are as a trader observing your deals history. Instead of many words, just share online an eye-catching and smart snapshot with all parameters of your deals. As a result, you will gain trust and an easy-to-track reputation.
Track your own success. In our estimation, when traders see shared deals, they are stimulated to achieve more ambitious goals as their progress is monitored and manifested in public. You can also save snapshots for yourself as a history of trading achievements.
Engage others. Each snapshot shared by you contains a QR code for your social media subscribers and contacts to easily transit to the cTrader app. When they are inside the app, their chances to create an account and become more engaged with their Live trading drastically increase.
Increased mobility and accessibility. You can create smart snapshots and share deals staying within your cTrader app on Android. This will allow you to immediately update your audience even when traveling or on a commute.
Components of a Sharing Deal Snapshot¶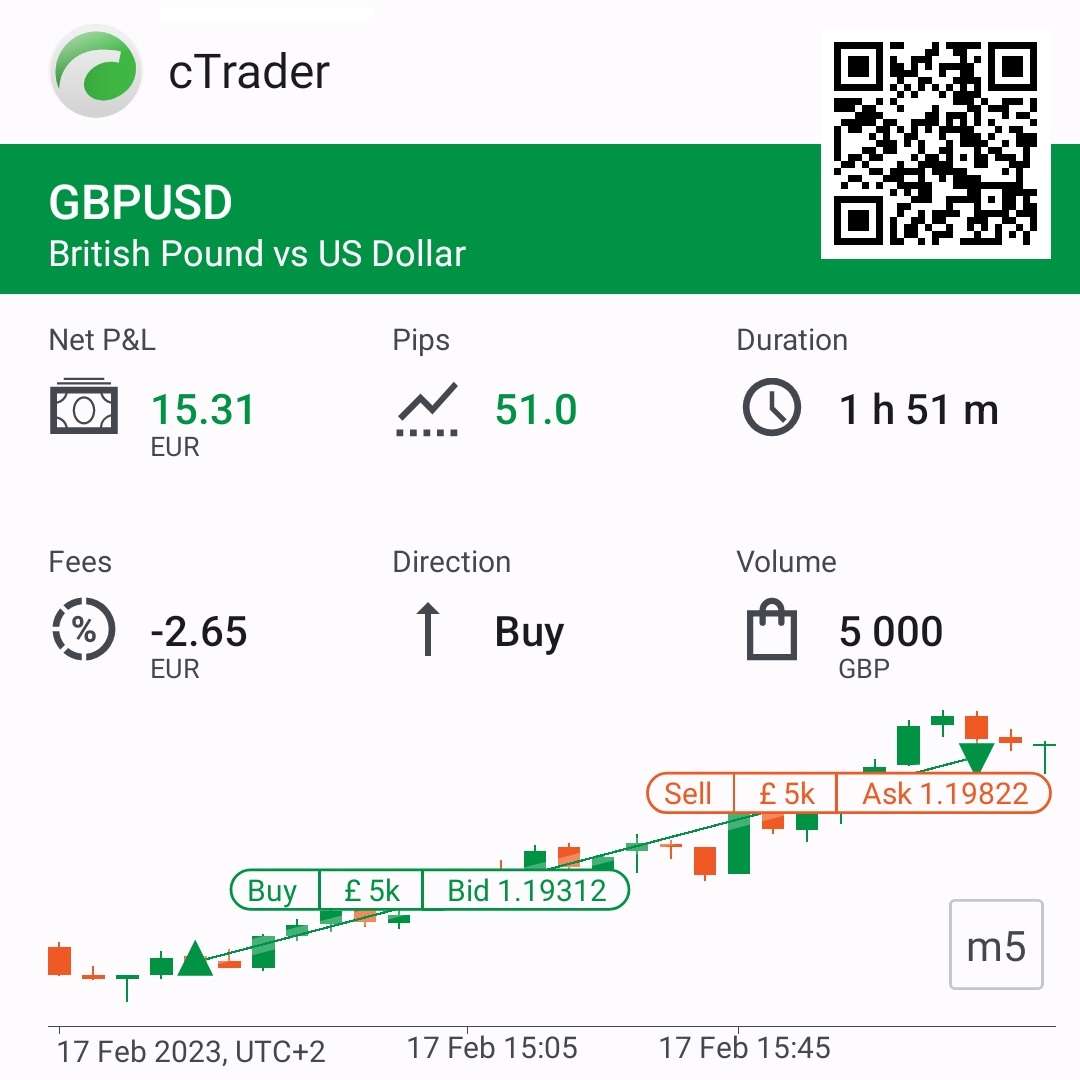 Symbol - GBPUSD was traded in the example.
Net P&L - Total amount earned by the trader after closing one or several deals. Green indication shows that the exemplified deal was profitable for the trader, with CHF 15.31 being earned. However, several triangles depicting opening/closing deals can be added to a summary snapshot, with net P&L standing for the entire position.
Pips - Measurement of the amount of change in the exchange rate for the given currency pair. In the example, 51 pips denote a profitable deal, while red indication would stand for loss.
Duration - Time between the first opening deal for a position (if there are several) and the closing deal. Or the time between the opening deal and the first closing deal (if there are several).
Fees - A fee of CHF 2.65 was paid by the trader. Consequently, it was deducted from the profit.
Direction - A buy direction in the market order type was selected in the example.
Quantity - The number of units equal to GBP 5,000 was sold to purchase USD.
Candlestick chart - The left-most and right-most triangles display the period from the first opening deal for this position and the closing deal. In case when several closing deals are depicted, more than one pair of triangles will appear on the chart. The candlestick chart also illustrates whether bid or ask prices were taken by the cTrader app. The 'M5' icon in the bottom right corner of the snapshot displays the timeframe of the candlestick chart.
QR code - All recipients seeing the deal summary can scan the QR code and easily follow to the cTrader app in their Android device. Due to a (u) parameter in the QR code link, traders will be attributed to the user who is sharing deals. If the app is not installed yet, they will be forwarded to Play Store to download it.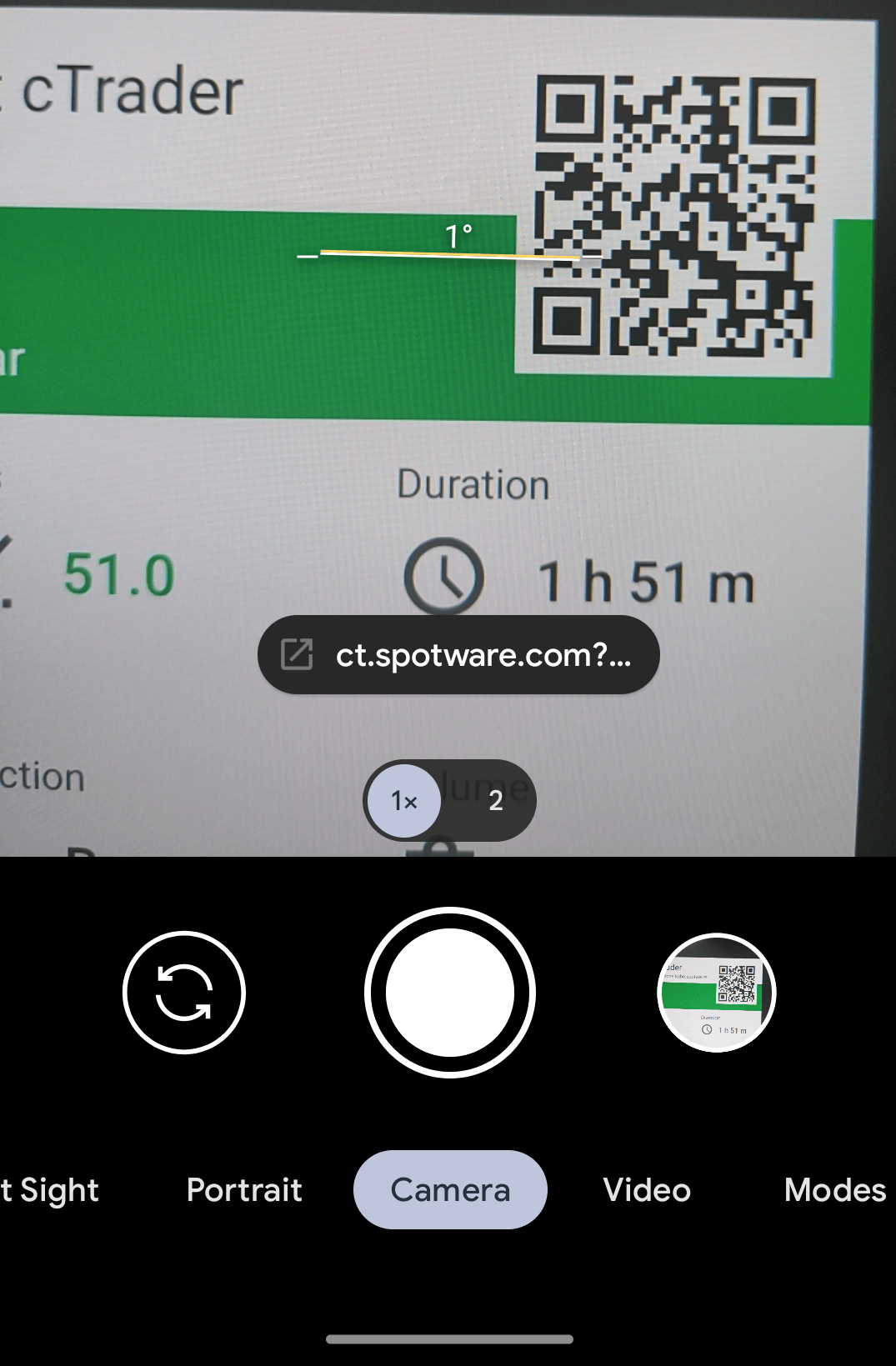 Note
The same way as all other cTrader URLs with a (u) parameter carrying a trader's nickname, the QR codes of shared deals work as Invite links and execute trader attribution in branded applications. Learn more about the benefits of cTrader Invite and multi-functional Invite links.
How to Share a Snapshot with Deals¶
1. Place a new order. After choosing an order type, symbol, direction, quantity, and other order parameters, tap on the 'Place Order' button.
2. After a successful order execution, a new position will appear in the 'Positions' section. You can fully close the position by tapping on the 'X' button in the 'Positions' list. Or the position can be modified and partially closed from the individual position view.
3. You can access the closed or partially closed position from the 'History' list by swiping left. Tap on the row of your choice and proceed to sharing.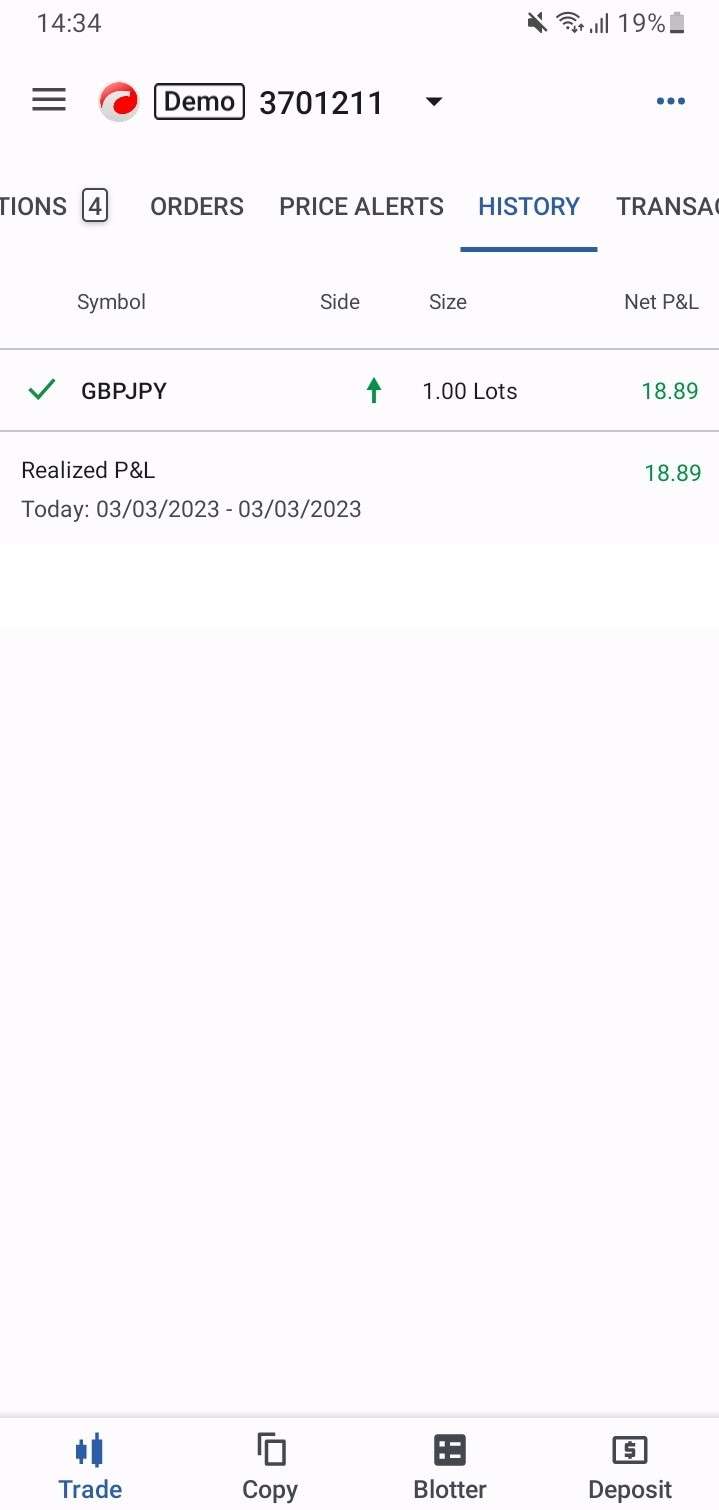 4. By tapping on the deal, you will open its summary, which is easy to share due to the native sharing button [] to the right of the traded symbol. You do not even need to make a screenshot of the summary, as it will automatically convert into a smart snapshot with a QR code after sharing as demonstrated above. Simply select your preferred sharing channel (e.g., Telegram, WhatsApp, Email, Messages, etc.) or save the snapshot to your image gallery.
5. The deal info will be available below if you swipe up on the closing deal summary screen. To avoid confusion, the deal info specifies whether bid or ask prices were used for the opening and closing deals.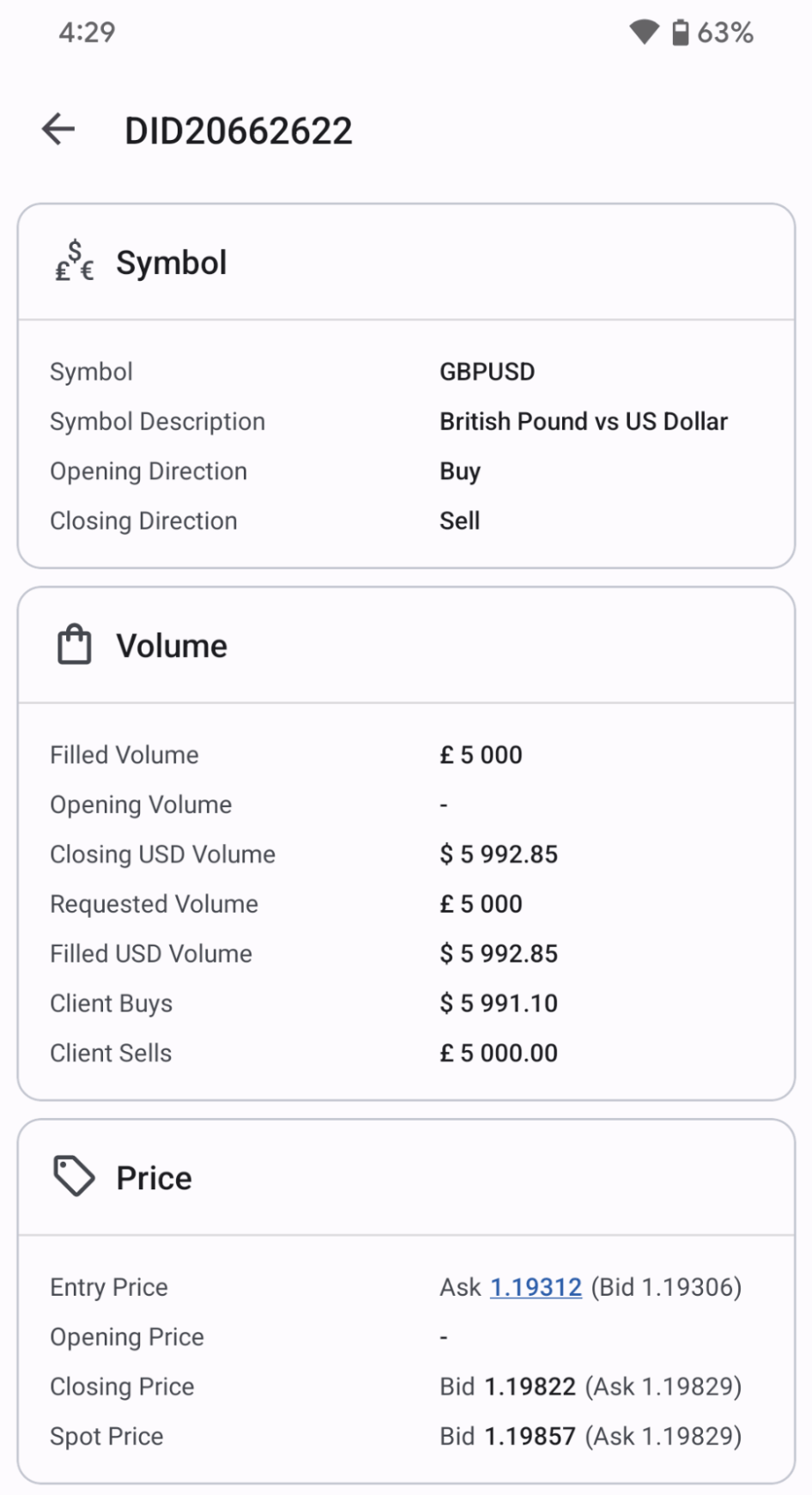 In conclusion, the sharing deals feature has revolutionised the way you can present your trading achievements as infographics and share smart deal summaries across all social media platforms. With this new feature from cTrader and native sharing on Android, you would avoid making screenshots or assembling deal-related information from bits and chunks. A QR code available on each snapshot leads traders directly to the platform and simultaneously attributes them to you in cTrader Invite.
---
Last update:
November 30, 2023