Guest Mode¶
What Is the 'Guest Mode' Feature¶
'Guest mode' is a major quality-of-life feature of cTrader Web. It allows users to perform certain actions without being authorised inside the application.
This feature acts as an extended preview of cTrader Web by giving you the opportunity to interact with certain controls even if you do not have an account with a broker that offers cTrader. Below, we provide its one-minute summary.
The 'Guest Mode' Feature in One Minute!
'Guest mode' allows users to access cTrader Web without having to create an account or log into an existing one. If you share information with other traders, you can freely demonstrate cTrader Web and its core features without worry!
When accessing cTrader Web as a 'guest', users can still see trading charts and navigate to various sections inside the platform. This makes cTrader Web a great platform for educators and professional traders who want to share their insights with others.
When users attempt to perform an action that the 'guest' user is not authorized to take, they will be automatically prompted to log in or create a new account. This makes 'guest mode' an ideal preview of cTrader Web for first-time users of the platform.
How 'Guest Mode' Works¶
You can think of the 'guest mode' as a special way of accessing cTrader Web. It is available under the following conditions.
When you access cTrader Web for the very first time without having registered an account with a cTrader-affiliated broker.
When you log out of one of your cTrader accounts but still remain in the cTrader Web window.
Strictly speaking, when you access cTrader Web in 'guest mode', you are still authenticating using certain predefined credentials. However, the user under which you are authenticating is only authorized to carry out a very limited selection of actions.
If you attempt to perform any actions (e.g., placing an order) that the 'guest' user is not authorized to take, cTrader Web will automatically open the log in/sign up screen.
When using 'guest mode', the account selector will be absent. In its place, you should see the 'Log In' button.

Click on it to open the log in/sign up screen.
Note that, in some situations, you may access cTrader Web via links that lead to sections or actions that the 'guest' user cannot access or cannot take. In this case, you will be automatically presented with the log in/sign up screen instead of accessing cTrader Web as a guest.
To close the log in/sign up screen, click on the 'cross' icon in its upper-right corner. Afterward, you will be able to browse cTrader Web as a 'guest'.
What Actions Can and Cannot Be Performed by the 'Guest' User¶
While 'guest mode' is active, you can perform the majority of actions that are available in cTrader Web.
However, attempting to perform the following actions will present you with the log in/sign up screen.
Placing an order by using the Quick Trade functionality, clicking on the 'New Order' and 'Place Order' buttons, or pressing the F9 hotkey.
Creating a new price alert.
Performing a deposit or a withdrawal.
Creating a chartshot.
Sending a message via the Live Chat feature.
Clicking on the 'Email Alerts, 'Quick Trade', 'Workspace', and 'Save Template' buttons.
Accessing the 'Automate' or 'Analyze' sections.
The functionality of cTrader Copy is also limited for the 'guest' user. Here is a look at how the 'Copy' tab looks while 'guest mode' is active.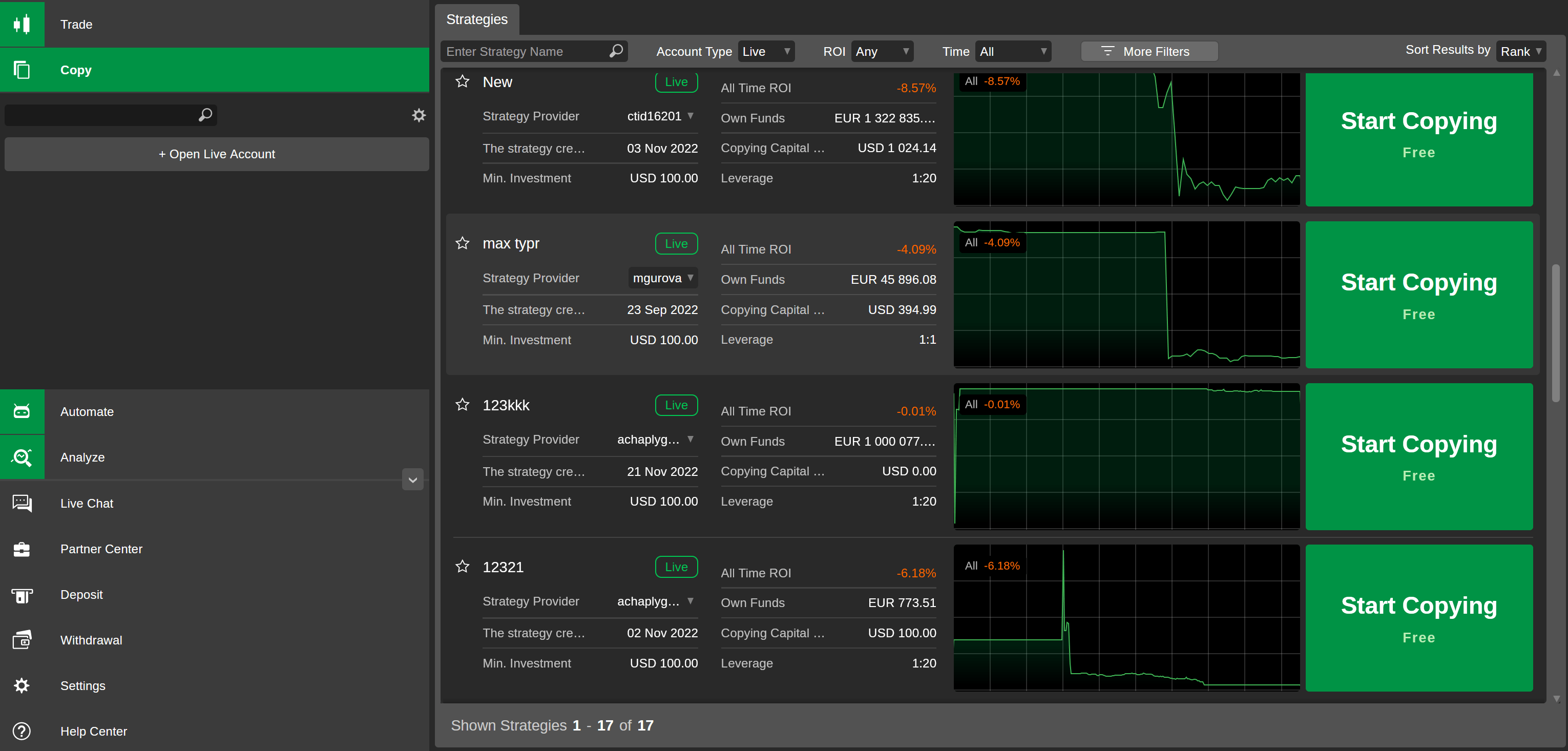 The 'Copy' tab still shows data about various strategies you could choose to follow; however, the 'Favorites' tab is absent.
Click either on the 'Open Live Account' or the 'Start Copying' buttons will open the log in/sign up screen.
How 'Guest Mode' Benefits Users¶
Adding the 'guest mode' functionality offers several notable benefits to current and prospective cTrader Web users.
You can check out how cTrader Web works without spending time creating a new account and cTrader ID credentials.
You can freely log out of your accounts registered with cTrader-affiliated brokers without losing access to several major features including customizable trading charts, DoM, and the Autochartist.
If you would like to invite new users to try out cTrader, you can easily demonstrate nearly all cTrader Web features without your target audiences needing to register an account with a specific brokerage.
If you host webinars, streams, or other online events dedicated to cTrader Web, you can safely show the cTrader Web UI without disclosing potentially sensitive information about one of your trading accounts.
Overall, the addition of the 'guest mode' greatly benefits proactive traders who want to introduce other users to cTrader Web.
---
Last update:
December 6, 2023