Shared Access¶
Money managers and other partners have found it difficult to execute remote access to individual accounts for the purpose of manual or automated trading on behalf of a third party. From a different perspective, having granted access to a partner, account owners would like to observe deals in real time and reserve the right to revoke access any moment.
To resolve these issues, cTrader Web offers a built-in shared access feature. This guide will explain in detail how to share and revoke access in cTrader Web.
Shared Access in One Minute!
Due to the shared access feature of cTrader Web, traders can grant access to money managers for manual or automated trading on their behalf.
Access is easy to share even for a new user of cTrader by clicking on 'Settings' and inputting a partner's email or a cTrader nickname in the 'Shared Access' section.
Once access is shared, any of the parties can promptly revoke/decline it by making just several clicks in your browser.
Shared access is a safe and secure way to delegate money management since deposit and withdrawal operations remain open only for account holders. All trading decisions remain transparent and trackable, which contributes to an account owner's sense of control.
Benefits of Shared Access¶
Remote manual and automated trading. As a money manager, you are granted access to a third-party account for manual or automated trading. When a new cTrader account is shared with you, you can enjoy the full functionality of the shared account except for deposit and withdrawal operations.
Full control and transparency. As a cTrader account owner, you can delegate trading activities to more experienced partners without a fear of losing your own access and transparency. You will be able to revoke access any moment you consider necessary.
Win-win partnership. When using the shared acccess functionality, traders can easily share their accounts with skilled money managers. In turn, money managers will benefit from accessing all shared accounts in one place.
Convenient access. Shared access and further money management can be executed directly from your browser. You can open several tabs in your preferred browser if multiple accounts are shared with you.
How to Share Access¶
To share access with a partner, make sure that the left-side navigation bar is expanded. Click on the 'Settings' section. If the navigation bar is collapsed, simply click on the settings icon.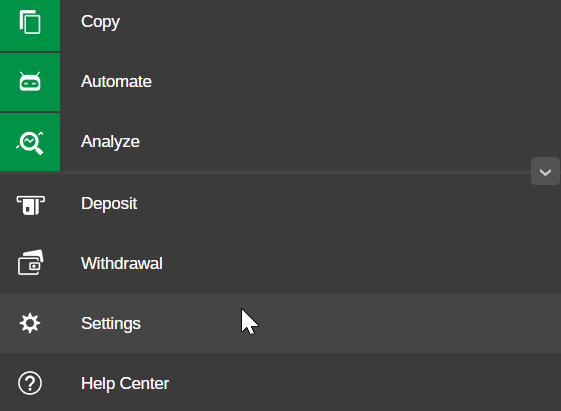 In the opened 'Settings' window, click on the 'Shared Access' section and input an email or a nickname of the person you are sharing with. Note that the account selection field remains inactive in the 'Shared Access' window, and you proceed sharing the account you are currently logged under. To share a different account, you first need to choose it in the main account selector.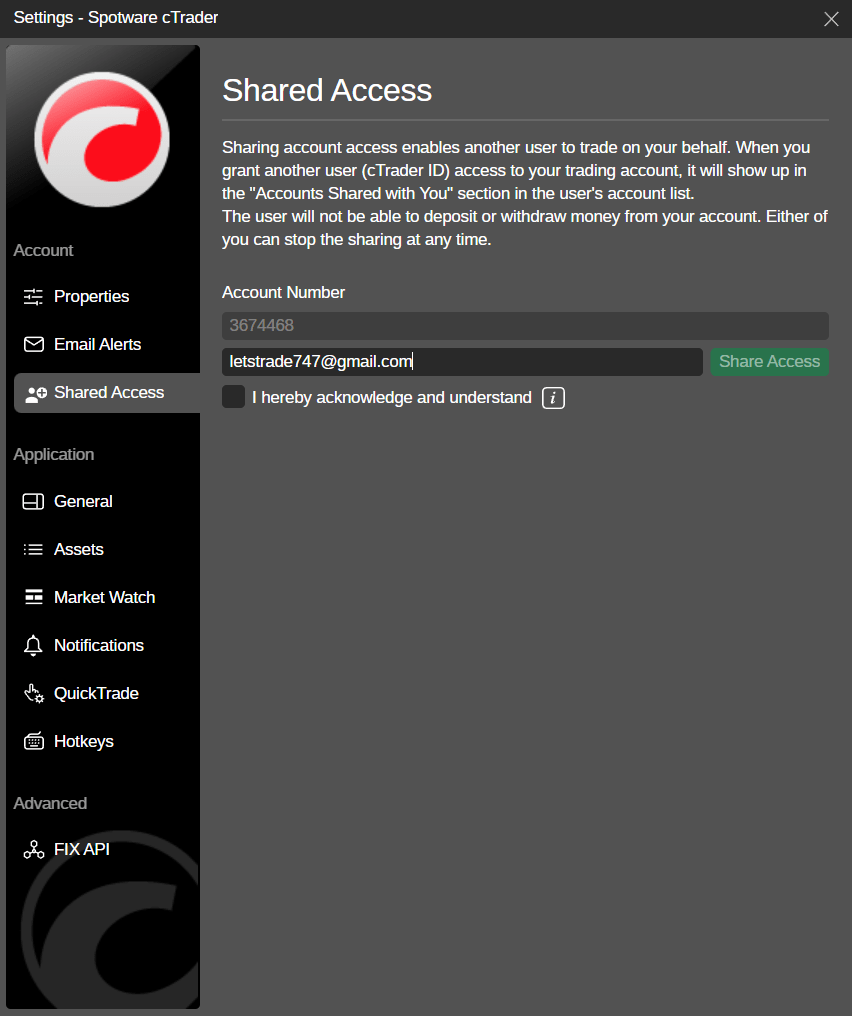 Tick the consent box under the email, and click on the 'Share Access' button which has become active. You can read the full pop-up disclaimer by moving the cursor on the 'i' sign.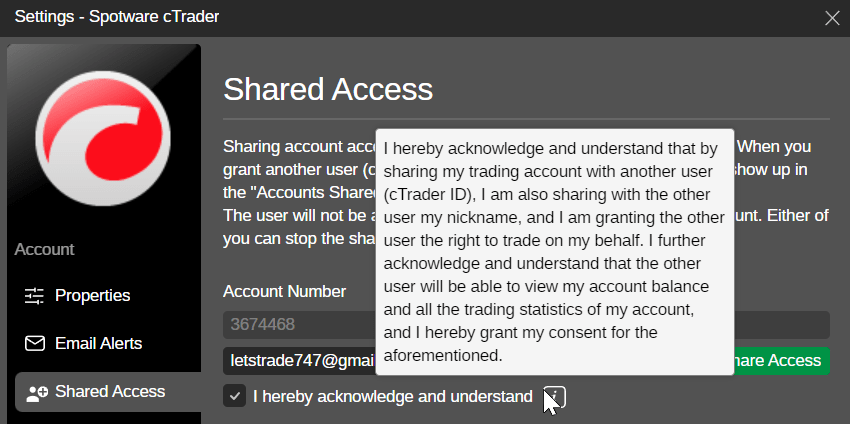 A pop-up notification confirming that you have shared the account with another user of cTrader will appear in the top right corner. Both you and your partner will receive notifying emails with the date, account manager, account, and broker mentioned.

Now, in the drop-down menu with your account information, you will see accounts managed exclusively by you and those you have shared with others. In turn, your money manager will find the account(s) shared with them in a separate section.
Traders can also find information about the shared account and sharing destination in the 'Shared Access' window opened via 'Settings'. However, money managers will not face any information about the accounts shared with them in the 'Shared Access' window.
How to Revoke/Decline Access¶
You can easily revoke access to your account by tapping on 'Revoke Access' in the 'Shared Access' window.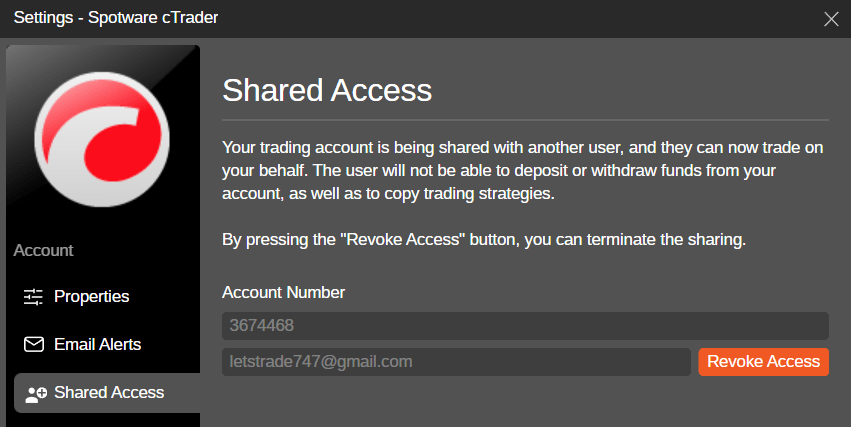 A notification informing that you will be logged out of your account for security reasons will pop up. Note that money managers cannot decline access from the 'Settings' menu, as the accounts shared with them are not visible there.
Alternatively, access can be revoked or declined from the drop-down menu with account information in the top right corner of cTrader Web. In the 'Accounts Shared by/with You' section, you simply need to click on the cross button.
You will be asked to confirm your intention to discontinue access. Afterwards, a notification will pop-up in the top right corner and both parties will receive notifying emails.


To summarize, easy access sharing functionality of cTrader Web enables account owners and their partners to collaborate effectively and generate higher revenue streams. Remote access to individual accounts is especially beneficial to money managers and partners who can use this feature for manual or automated trading on behalf of a third party. Access can be revoked/declined by any of the parties at any time, thus making the sharing feature totally controlled and safe.
---
Last update:
December 6, 2023