Chart Streams¶
cTrader Web allows users to share their technical analysis and trading insight in the form of public charts on which stream providers can draw, place lines, or perform other actions without using any third-party tools. In this article, we explain how streams work and the benefits they offer.
Below, we also provide a one-minute summary of this feature.
Streams Feature in One Minute!
Streams allow for real-time sharing of charts and any objects placed on these charts. Use this feature to inform other traders of market movements and new opportunities!
Managing streams is done entirely within cTrader Web, eliminating the need for using third-party screen sharing and/or recording software.
Stream links can be easily shared on any social network or physically as a QR code via the 'Invite' application. This makes them an ideal tool for anyone who wants to educate other traders and boost their trading community.
Viewers can watch streams without having a cTrader ID, allowing for sharing insight with traders who do not yet have an account with a cTrader-affiliated broker.
How Streams Work¶
Think of streams as an easy-to-use method to share a chart and any objects added to this chart.
When a stream is active, its host can perform a wide variety of chart modifications including drawing trend lines, placing new indicators on the chart, or even changing the chart type entirely (e.g., switching from a candlestick chart to a Renko chart). It is also possible to change the symbol for which the currently streamed chart displays information as well as the chart timeframe.
In turn, stream watchers can see nearly all actions that are performed on the chart by the stream provider. As a result, technical analysis can be shared immediately without leaving cTrader.
Links to streams can be shared on Telegram, Discord, or any social media platforms you may be using. These links conform to the following format.
https://ct.exampleBroker.com/streams/1450?u=nickname

Note
The same way as all other cTrader URLs with a (u) parameter carrying a trader's nickname, Chart Stream links work as Invite links and execute trader attribution in branded applications. Learn more about the benefits of cTrader Invite and the sharing functionality of Invite links.
When a user clicks on the stream link, a new chart will be added to their workspace; this chart will replicate the chart shared by the stream provider. It will include all chart drawings and other objects added by the host as well as any indicators added to the shared chart.
If a user who wants to watch a stream does not yet have a cTrader ID, cTrader Web will open in guest mode.
How Streams Benefit Users¶
Streams are a crucial feature if you are an active trader who regularly shares your knowledge with others. They provide the following benefits.
Streams allow for sharing technical analysis and insight without the need for dedicated third-party software, enabling you to use the familiar cTrader Web interface for educating other traders.
By keeping your viewers inside cTrader Web, streams maximise the amount of time traders have to react to your technical analysis and exploit new market opportunities.
Stream links can be easily shared on any social network or physically as a QR code via cTrader Invite, which means that professional traders can integrate them into any existing channels of communicating with other traders.
Watching streams does not require viewers to have a cTrader ID, allowing sharing streams to a wide audience.
How to Start, Share, and Stop a Stream¶
To start a stream, first, open the chart for the symbol that you would like to share insight about. Afterward, click on the 'Broadcast' icon just to the right of the chart timeframe selector.

The icon will be in the same place regardless of the chart mode you are using.
After you click on the 'Broadcast' icon, cTrader should open the following window.

Afterward, perform the following actions.
Type the stream name into the 'Stream Title' field. Note that this title cannot be changed for an ongoing stream.
Click on 'Start' and cTrader will show a new window containing a link to your shared chart.
Press the 'Copy Link' button to copy the stream link to your clipboard.
To close the window, click on 'OK' after copying the link.
After the stream starts, the chart you are sharing will have an orange frame around it. You will also see a new toolbar with the stream title in the lower-left corner of the chart.

The Stream Toolbar
The stream toolbar contains the following elements.
The stream title.
The 'Active Watchers'counter that shows the current number of traders watching your stream.
The 'Watchers Over All Time' counter that displays the total number of traders who have watched your stream (including the currently active watchers).
The 'Share' icon. Click on it to re-copy the stream link to your clipboard. Additionally, you can share your active Chart Streams as QR codes and copy their links in the 'Invite Link' tab of cTrader Invite.
Note that you can use drag-and-drop to change the position of the toolbar. However, you cannot drag it between charts or over the QuickTrade buttons at the top of the currently active chart.
If you add any new external indicators, the orange frame will extend to the windows containing these indicators. This signifies that your stream watchers can see these windows and whatever indicator outputs they display.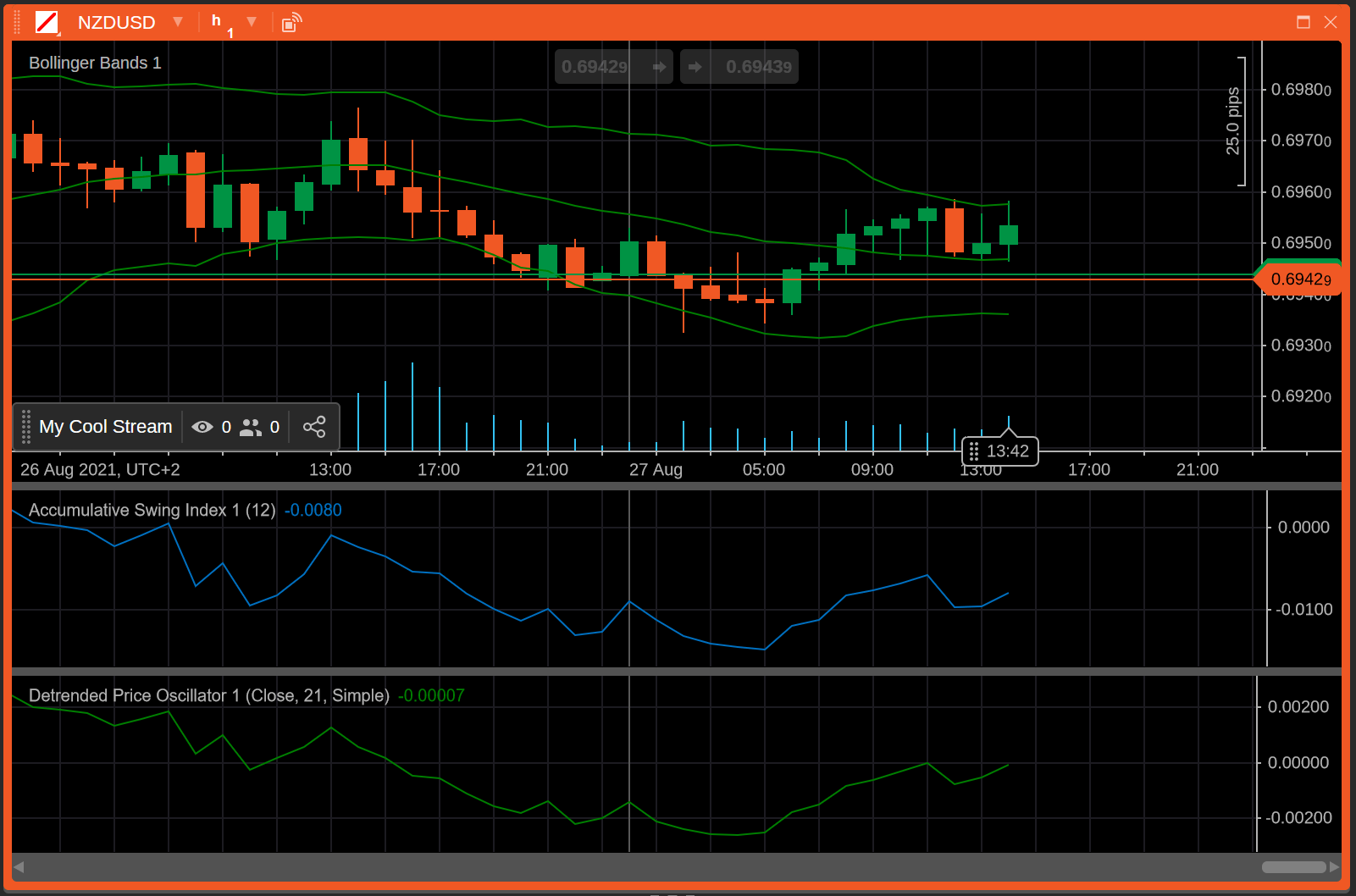 After your stream concludes, click on the 'Stop Broadcast' button (which has now replaced the 'Broadcast' icon) to end it. Alternatively, close the chart that you are sharing.
In the newly appeared window, select 'Stop Streaming'.

Logging Into a Different Account
Your stream will continue if you choose to log into a different account, allowing you to continue providing technical analysis and insight with no interruptions. Nonetheless, if the account to which you are switching belongs to a different brokerage or compared to the account where you have started the stream, you will not be able to perform any actions on the streamed chart. The same occurs if you are switching between a demo account and a live account, and vice versa even if both of them belong to the same brokerage.
How to Share Technical Analysis and Insight Using Chart Streams¶
When a user clicks on your stream link, they will be automatically redirected to cTrader Web. A new chart will be added to their active workspace. This chart will match the data shown on your currently streamed chart.
For viewers, the new chart will be highlighted by a blue frame as shown below. The stream title will be displayed to the left of the symbol the chart for which you are streaming.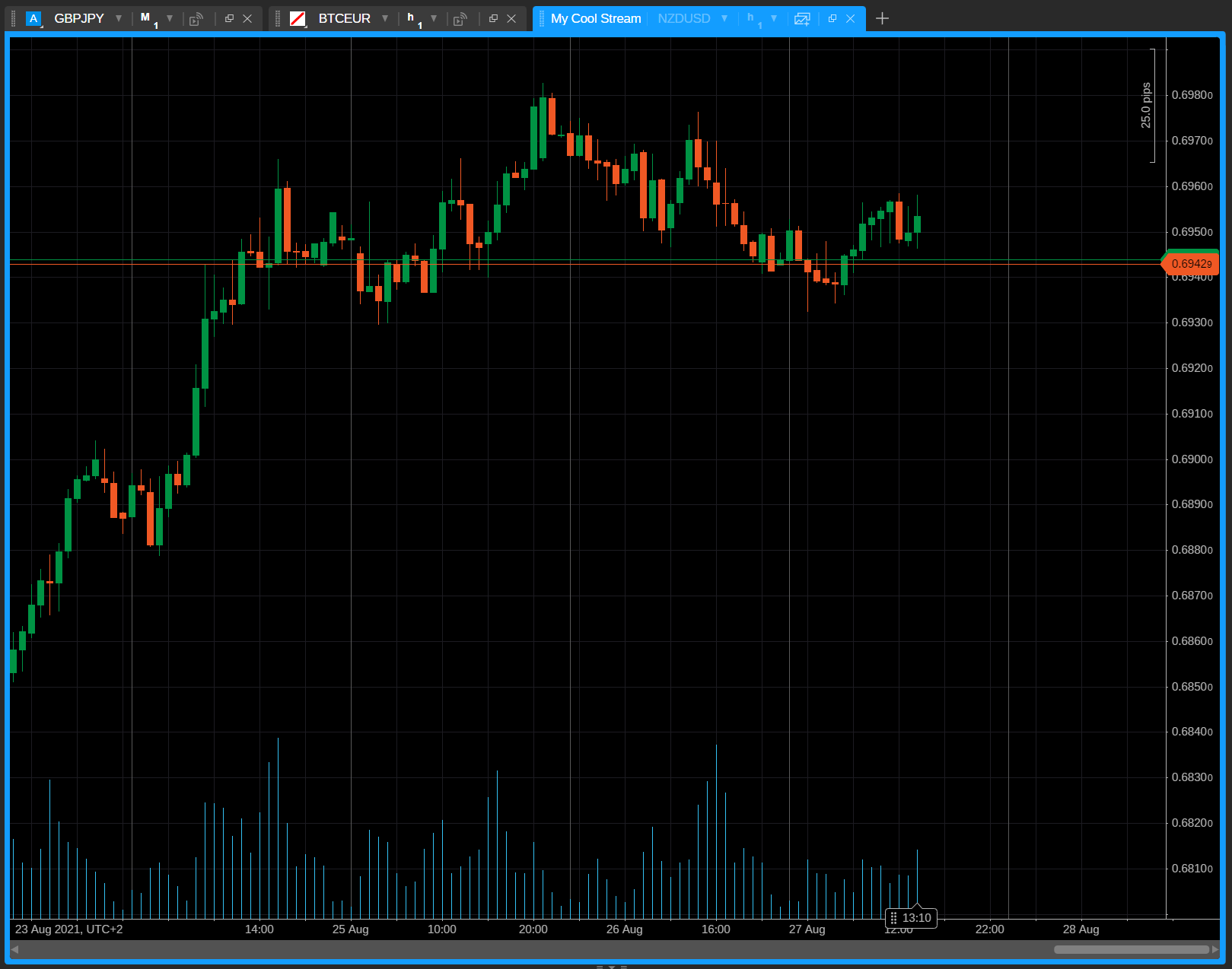 To share your insight, you can freely add new objects to the streamed chart (e.g., new text or Fibonacci fans). After a very brief amount of time, these objects will appear for all stream viewers. They will be automatically adjusted to fit the viewers' chart sizes, zoom levels, and other custom preferences.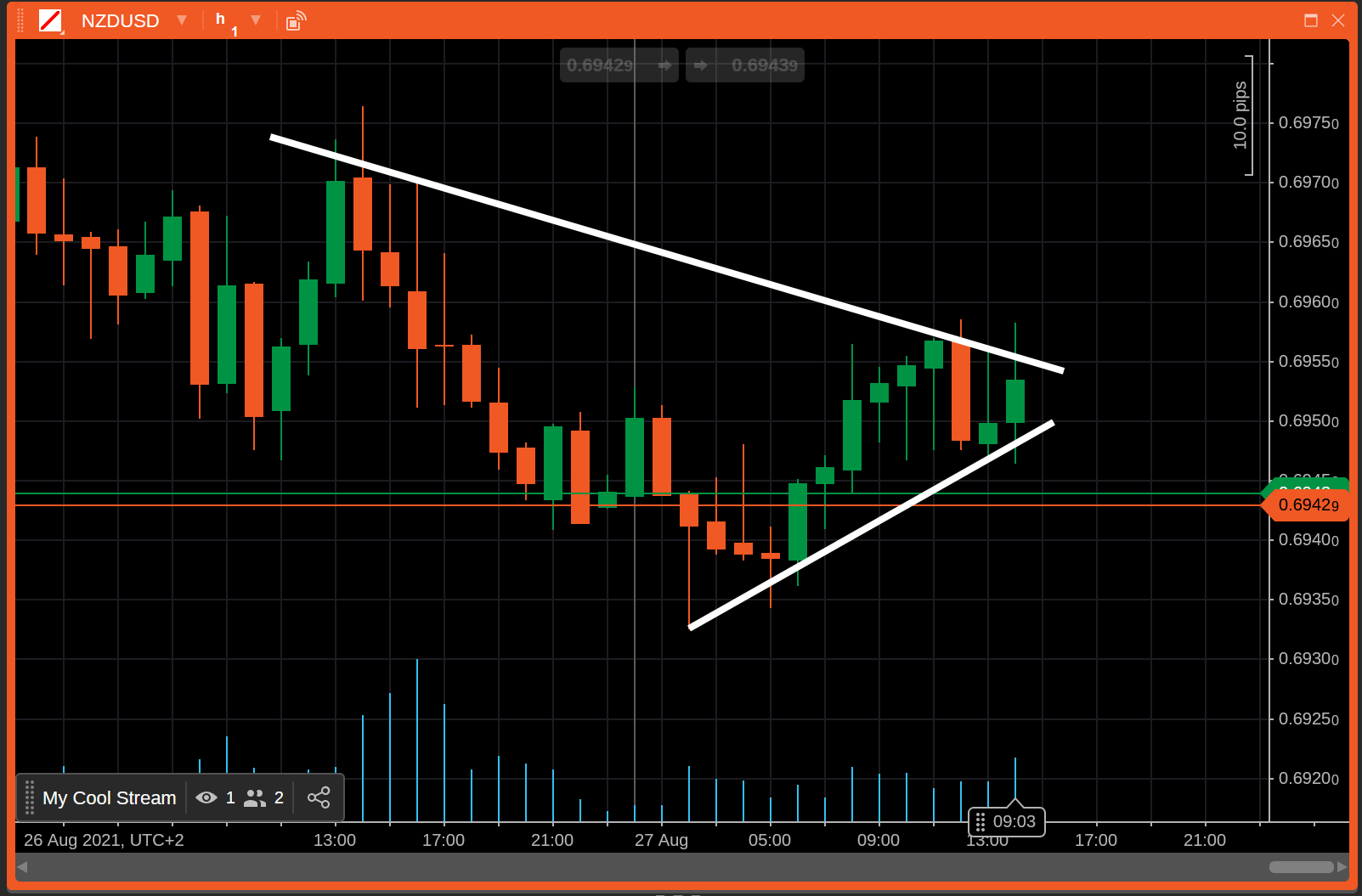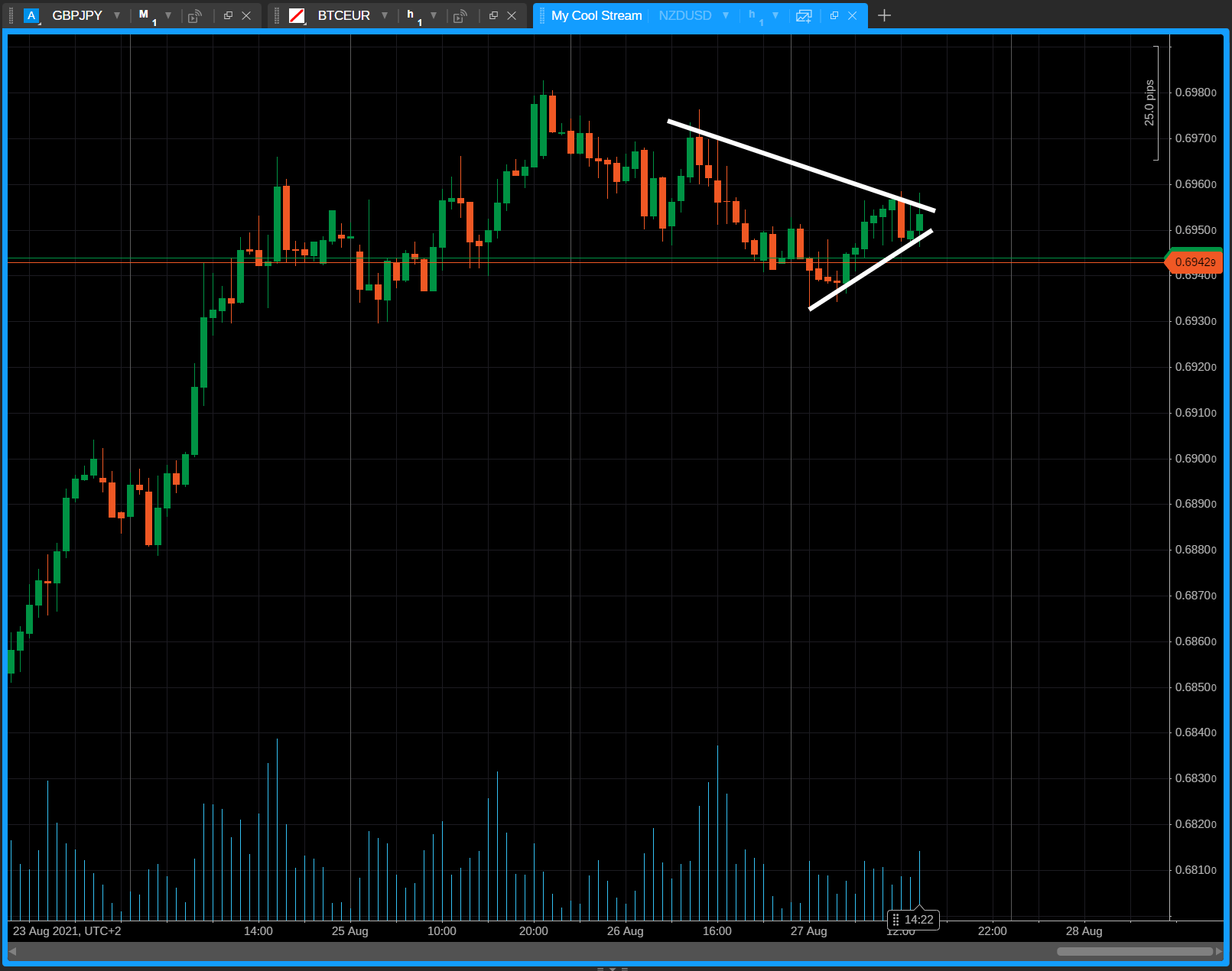 As a result, you can easily share your insight directly within cTrader Web without the need for recording your screen.
You can also perform a variety of actions that go beyond simply adding objects to the currently streamed chart. For example, you can open the symbol selector for the currently streamed chart and choose an entirely different symbol.
Your stream will continue and its watchers will now see the data for the newly selected symbol. This allows for hosting complex and lengthy webinars during which you could share technical analysis for several symbols.
Viewers can also quickly react to the results of your technical analysis. To do so, a watcher first needs to click on the 'Duplicate Stream' button.

The watcher will then see a new chart opened for the symbol that you are sharing technical analysis about. On this new chart, the watcher will be able to place new orders using the 'QuickTrade' buttons or by right-clicking on the chart, instead of having to switch between any custom stream screens and the trading platform.
After you end a stream, the chart will still remain in the workspace of all its viewers. However, instead of displaying data, the chart will, instead, notify viewers that the stream provider has stopped the broadcast.
In summary, streams offer an easy-to-use way to share your insight with other traders. Managing streams does not require using any third-party software; instead, all operations with streams can be performed using the familiar cTrader Web UI. Stream links can be easily shared on any major communications platform, allowing you to share technical analysis with a wide audience.
---
Last update:
September 29, 2023