Shared Access¶
Money managers and other partners have found it difficult to execute remote access to individual accounts for the purpose of manual or automated trading on behalf of a third party. From a different perspective, having granted access to a partner, account owners would like to observe deals in real time and reserve the right to revoke access any moment. To resolve these issues, a non-branded cTrader version on Desktop offers a built-in shared access feature.
This guide will explain in detail how to share and revoke access in cTrader Desktop.
Shared Access in One Minute!
Due to the shared access feature of cTrader, traders can grant access to money managers for manual or automated trading on their behalf.
Access is easy to share even for a new user of cTrader by clicking on 'Settings' and inputting a partner's email or a cTrader nickname in the 'Shared Access' section.
Once access is shared, any of the parties can promptly revoke/reject it by making just several clicks in the desktop version.
Shared access is a safe and secure way to delegate money management since deposit and withdrawal operations remain open only for account holders. All trading decisions remain transparent and trackable, which contributes to an account owner's sense of control.
Benefits of Shared Access¶
Remote manual and automated trading. As a money manager, you are granted access to a third-party account for manual or automated trading. When a new cTrader account is shared with you, you can enjoy the full functionality of the shared account except for deposit and withdrawal operations.
Full control and transparency. As a cTrader account owner, you can delegate trading activities to more experienced partners without a fear of losing your own access and transparency. You will be able to revoke access any moment you consider necessary.
Win-win partnership. When sharing accounts with experienced money managers, traders may generate higher profits due to skillful portfolio management. In turn, money managers will benefit from easily accessing all shared accounts in one place.
Convenient access. The shared access feature is available on all platforms, including desktop, web, and mobile, which enables stakeholders to conveniently share and revoke/reject access from their preferred device.
How to Share Access¶
To share access with a partner, make sure that the left-side navigation bar is expanded. Click on the 'Settings' section. If the navigation bar is collapsed, simply click on the settings icon.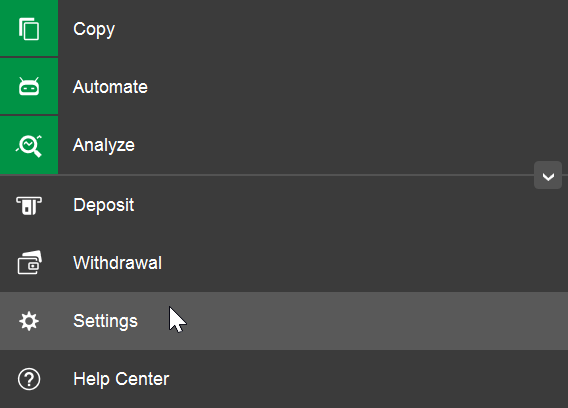 In the opened 'Settings' window, click on the 'Shared Access' section and input an email or a nickname of the person you are sharing with. Note that the account selection field remains inactive in the 'Shared Access' window, and you proceed sharing the account you are currently logged under.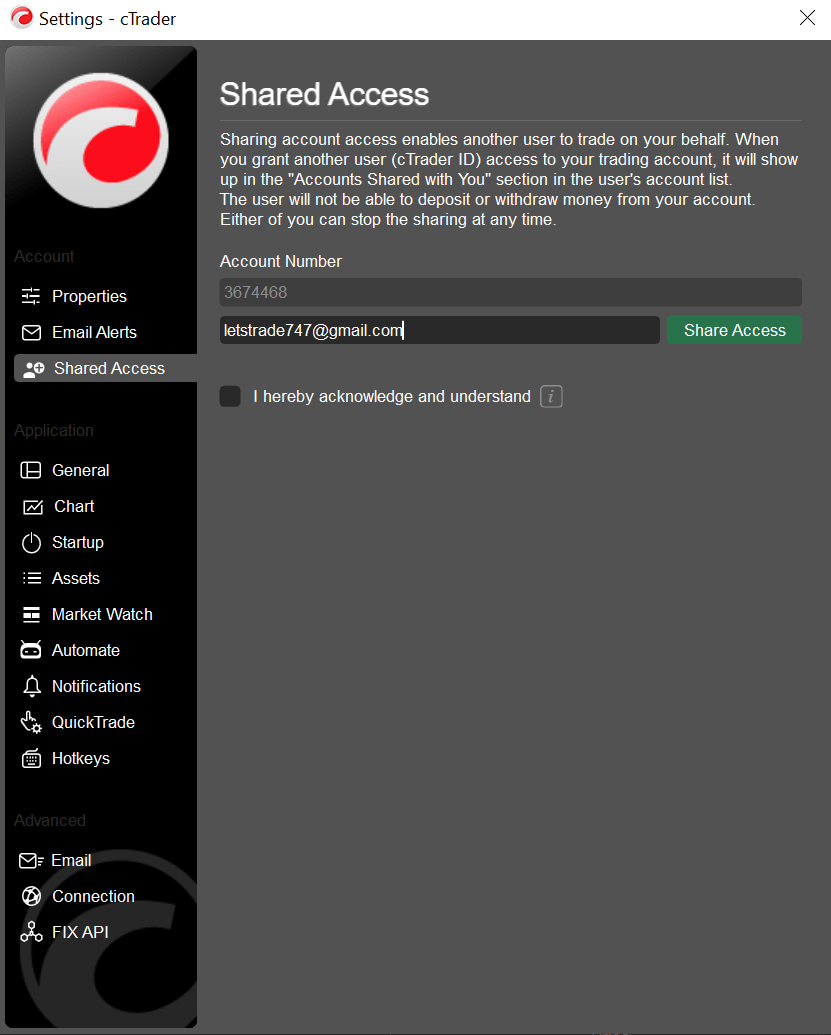 Tick the consent box under the email, and click on the 'Share Access' button which has become active. You can read the full pop-up disclaimer by moving the cursor on the 'i' sign.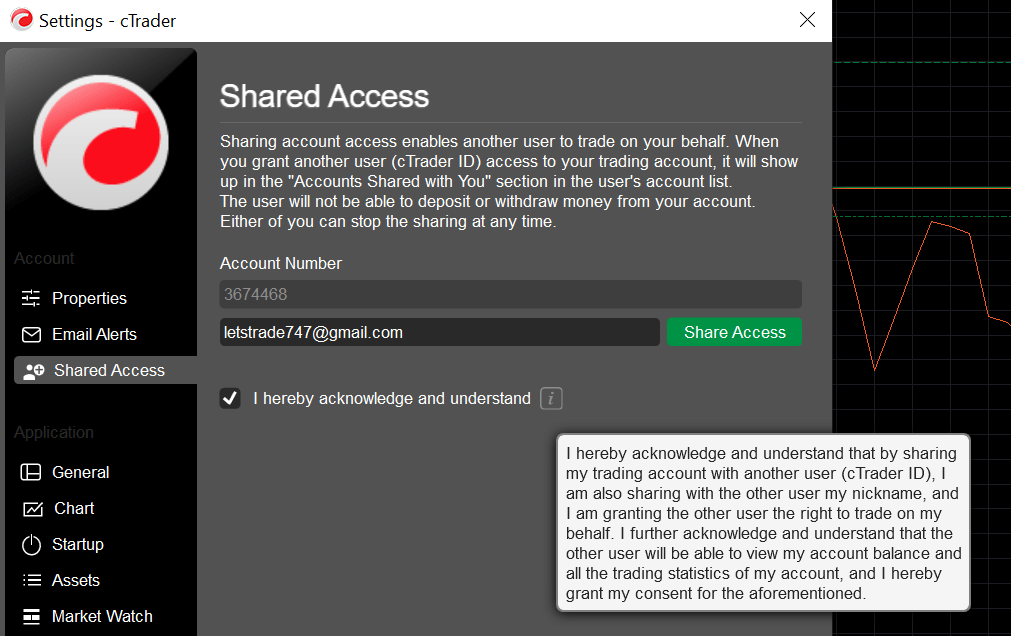 A pop-up notification confirming that you have shared the account with another user of cTrader will appear in the top right corner. Both you and your partner will receive notifying emails with the date, account manager, account, and broker mentioned.

Now, in the drop-down menu with your account information, you will see accounts managed exclusively by you and those you have shared with others. In turn, your money manager will find the account(s) shared with them in a separate section.
Both traders and money managers can find information about the shared account and sharing destination in the 'Shared Access' window opened via 'Settings'.
How to Revoke/Reject Access¶
You can easily revoke access to your account by tapping on 'Revoke Access' in the 'Shared Access' window. Money managers can also initiate a rejection in the same window accessed via 'Settings' (see the screenshots above).
Note that no additional pop-up window confirming your intention to quit sharing will appear on the screen. However, the party who decided to stop sharing will see a notification in the top right corner, and both parties will receive notifying emails.
To summarize, easy access sharing functionality of cTrader Desktop enables account owners and their partners to collaborate effectively and generate higher revenue streams. Remote access to individual accounts is especially beneficial to money managers and partners who can use this feature for manual or automated trading on behalf of a third party. Access can be revoked/rejected by any of the parties at any time, thus making the sharing feature totally controlled and safe.
---
Last update:
March 21, 2023