Earn More Rebates¶
Brokerage firms pay commissions to partners in exchange for their services. While the size and structure of such rewards differ from broker to broker, referral programmes usually include a pay for leads generation and a revenue share.
Tip
If you are into social trading, consider becoming a broker's partner to earn more from your efforts. Partners with a large referral base can negotiate individual commissions with brokers.
Dreaming big, how much do you expect to earn from the referral programme next month? Would you believe that you can at least double this amount by using cTrader tools designed for partners?
In this article, we will focus on some practical steps for earning more rebates with the fantastic features that are already in your cTrader app!
Create a Plan¶
Let's go straight to the point, there are two effective ways of earning more for partners.
Increase the trading volume of your current referrals.
Gain new active referrals.
Here, you should not hesitate which of the options to choose because they best work in combination with each other. You cannot endlessly increase the trading volume of your current referrals without introducing new traders into the business. Any new referral should quickly start bringing revenue to the broker; otherwise, they will not reward you only for passive leads.
Increase Your Referrals' Trading Volume¶
Being a social trader means that you already have some sort of opinion leadership and influence on your audience of investors. So, use your communication skills and channels to stimulate existing referrals to trade more frequently and place larger orders.
This is possible only if your referrals recognise nice trading opportunities which you will highlight and share as a partner.
Signal links are a top partner tool in cTrader allowing social traders to share positions and pending orders in just a few taps. You no longer need to send order parameters as awkward screenshots or plain text to your referrals. Signal links are easy to edit on the go and investors can open them on any cTrader app, including mobile.
Due to native sharing on your mobile device, signal links can be immediately sent via messengers, social media, and other communication channels.
Note
It is important that after tapping on a signal link, your referral instantly sees a clear call-to-action (CTA) in cTrader - 'Place Order' with your preset parameters. The chances of their successful action will increase even more if you create a sense of urgency. Market movements can change anytime, and the opportunity will be missed - your referrals should know about this!
We will not speculate about how frequently you should share signals to face the strongest response from your audience. A lot depends on your investment strategy and communication channels. The following example just gives an idea of how partners can use several channels for sharing signal links.
Example
Tom applies a medium-risk manual trading strategy for EURUSD and USDPLN, and shares cTrader signal links for the corresponding symbols. EURUSD signals are shared in his own Telegram channel which is promoted via Tom's landing page. The site itself is not suitable for signal links as they have limited urgency. USDPLN signals are interesting for a niche audience of Tom's referrals and he sends cTrader signal links as direct messages in Discord and emails. Additionally, Tom posts URLs for both symbols on his Twitter and Facebook so that new leads will be clear about his specialisation.
Price alerts are another effective cTrader tool for partners who want to notify their referrals about critical price movements and make them part of the game. Compared to signal links, price alerts are more suitable for investors with at least some trading experience. As there are no preset order parameters, traders will make their own investment decision after some price level is reached.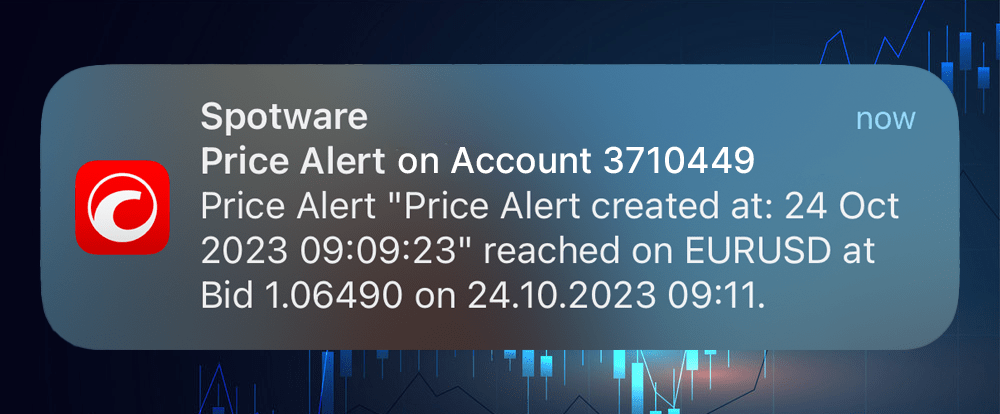 Tip
You can share several price alerts in a row to 'warm up' your referrals and then share a signal link leading to a real trading action.
cTrader is so partner-friendly that price alerts are shared in a second! Use the media that ensure the closest contact with your audience.
On top of that, if you feel that your referrals lack any other specific CTA to start trading severely, use cTrader deeplinks. For example, you can share a link motivating your investors to open another live account or make a deposit.
Gain New Referrals¶
With new active referrals joining, your compensation from the broker will be growing steadily!
cTrader Invite is an ultimate solution that allows partners to gain referrals. Although you cannot see in cTrader Invite how much you have earned as a partner (this stays between you and the broker), this application shows detailed stats of all invited traders. Any link you share as a partner is an Invite link that automatically makes other traders who click on it your referrals.
You could see that all links from the above examples contained the unique URL parameter with a specific partner's name u=letstrade747. When you are logged in to your cTrader app, your partner's nickname will be added instead to all links you are sharing, be it signal links, price alerts, or other cTrader products.
Tip
If you see another partner's Invite link leading to a cool cTrader product, just manually replace their nickname with yours and share. Now, it is you who will gain referrals!
So, cTrader Invite works magic for you by converting all leads interested in cTrader products into your referrals. The more attractive cTrader products you share on your socials, the faster your referral base will be growing.
Warning
So that the broker sees your new referrals and pays for them, make sure to add a broker referral link (BRL) or a Partner ID in the Invite settings. Contact your broker for details.
What's Next¶
Signal links and price alerts make the trader's lifecycle much longer by regularly motivating investors to remain involved in active trading. These cTrader tools help partners increase the trading volume of the referral base and subsequently earn higher commissions.
With cTrader Invite, you can obtain new referrals and send them to cTrader products at the same time! Invite is a win-win solution for everyone, as partners benefit from the broker's referral programme, while referrals get access to unique cTrader products and start trading big.
Now, it is your social media spin that determines how effectively you reach current and new referrals with Invite links. Post regularly, enter new communities, start your own channels, and promote your socials.
---
Last update:
December 6, 2023