Boost Your Authority the cTrader Way¶
While trading on behalf of others, it is highly recommended that you develop yourself into a personal brand. Self-branding always suggests a matching area between 'how you see yourself' and 'how others perceive you'. Without going deep into the branding theory, we would like to highlight in this article that clients pay scrupulous attention to the authority of your personal brand. For individual traders, it is more challenging to build authority than for large Forex companies with years of public reputation and almost unlimited resources.
Going further, it will be difficult for you to realise your potential to the fullest and become a partner unless you build authority. With distinct authority, you will be able to expand positive brand associations to your preferred broker, and they will reward you for every client.
Take a minute to think over these crucial questions.
What brand associations do I arouse from my audience?
How can I validate my trustworthiness across the trading community?
What trading features and behaviors would contribute to my reputation?
How can I position myself as a credible and reliable money manager?
The well-known Brand Authority Method involves five practical steps of how to boost your brand authority.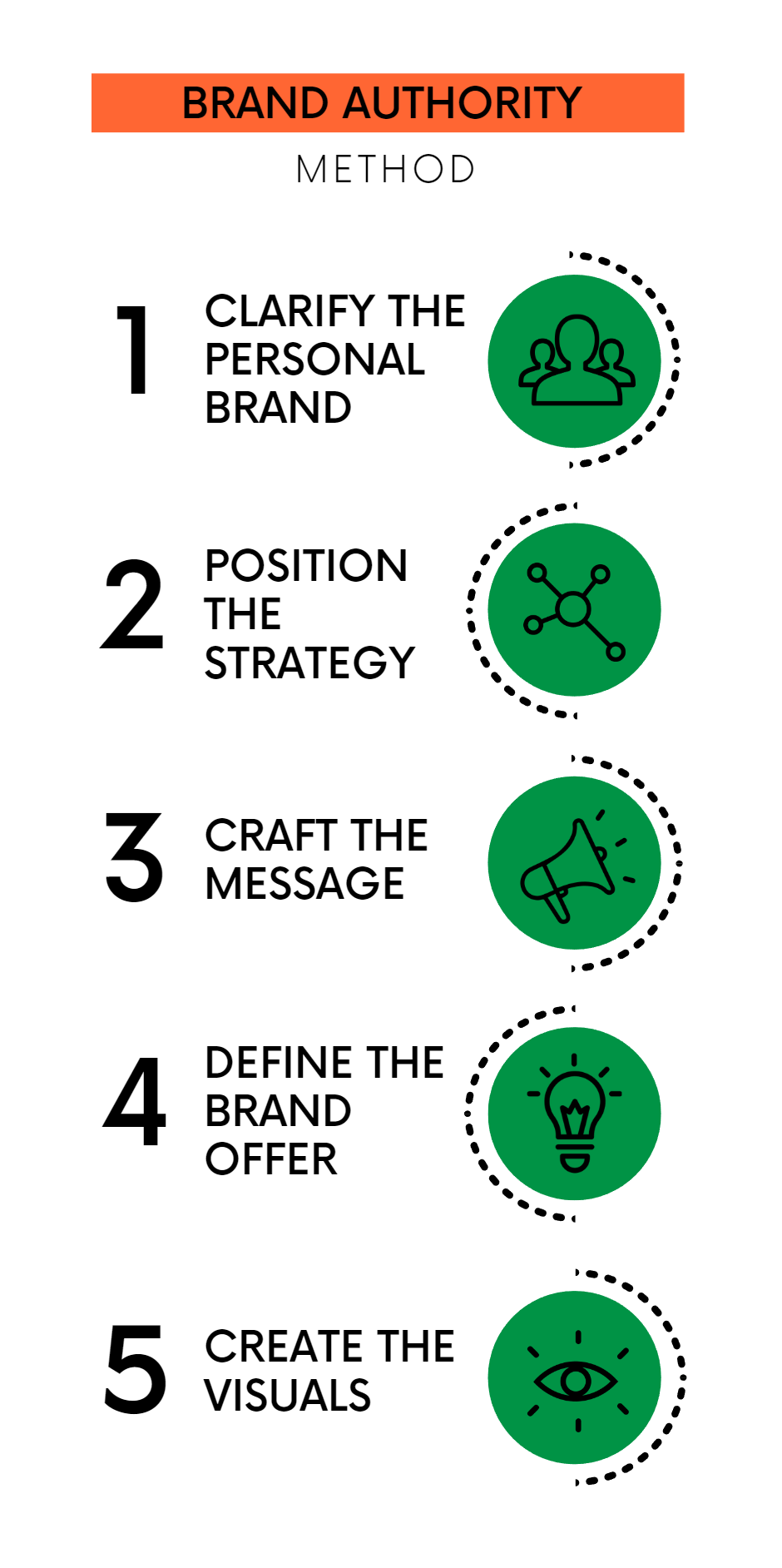 In this guide, we present the cTrader way of establishing your brand authority, as the platform offers numerous features and tools to sustain money managers' reputation. The Brand Authority Method will frame your path to higher trust among the client base.
Clarify the Personal Brand¶
Prior to convincing clients to entrust you with their money for trading, you first need to deliver what your personal brand is about and how exactly it differs from alternatives. The 'brand essence' concept encompasses the following aspects of personal branding.
Values
Benefits
Attributes
Personality
While the audience will not instantly believe your proclaimed values and convictions (e.g., 'I am the most committed and transparent money manager in the Universe'), you can effectively deliver the benefits of trading with you. Do not be shy to highlight such unique selling propositions (USPs) since benefits differentiate you from competitors in the same market.
Example
'0% management fee, commission on profits only' - Your investors will be assured that no hidden fees are involved and you are confident about making profits. 'Ex-Goldman Sachs professional trader with 15 years of experience' - A recognisable brand name shares credibility with you, and the experience becomes validated. '24/5 availability and client support' - The openness for regular and transparent communication looks attractive and bears the idea that you are not trying to hide from clients.
Attribute-wise, specify the exact parameters of your service. Perhaps, you are a CFTe licensed algo trader who specialises in European stocks and follows a low-risk orientation. A relevant brand description would allow you to target your immediate audience instead of offering a one-size-fits-all approach.
Example
'Thomas. A CFTe licensed algo trader. Low-risk strategies for European stocks'. Having inserted this description into your bio in a social media profile, you start looking more credible in the eyes of your target audience. Simultaneously, clients with mismatching expectations (e.g., demanding only manual trading) will be filtered out.
Last but not least, your bright and unique personality will be revealed in the trading style, risk tolerance, emotional exposure, and decision-making approaches.
Introducing yourself as a personal brand, you can hardly look trustworthy without a proven track record. Fortunately, cTrader has already equipped you with validated trading statistics that can be easily shared among your audience. Investor Access is a powerful tool available for your clients to summarise and visualise what kind of brand you are. A single glance would be enough to check your net profit, ROI, equity, volume, and other performance indicators.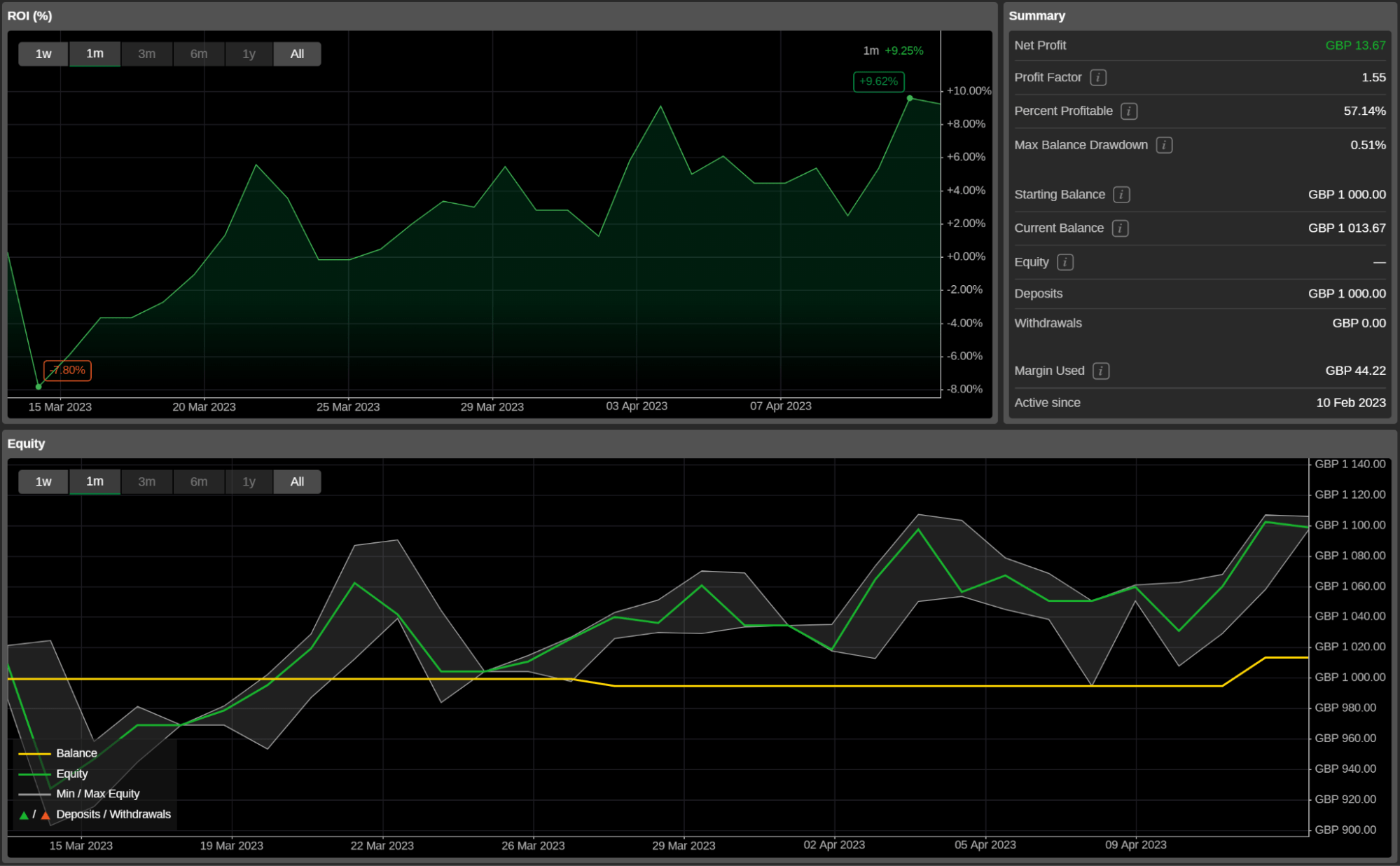 One of the strongest benefits of Investor Access is that it is a dynamically updated web page that is difficult to fake. Other money managers who share only screenshots as proof of their successful trading often compromise their brand authority. Such screenshots can be easily faked, and the audience is perfectly aware of this.
Retrospectively, you can always provide a link to Investor Access to show your clients what exactly went wrong or right over a past period, which obviously contributes to your transparency as a brand and sustains your credibility. Overall, the Investor Access statistics look more convincing than hundreds of words and unproven brand promises.
Position the Strategy¶
Now, when your audience realises what you represent as a personal brand, it is time to position your strategy. Even with an identical brand essence and for the same target audience, you can offer varying trading strategies. Classical branding theory suggests that brands are positioned in the dimensions of quality and price. However, a risk-return matrix would be more appropriate for the trading industry.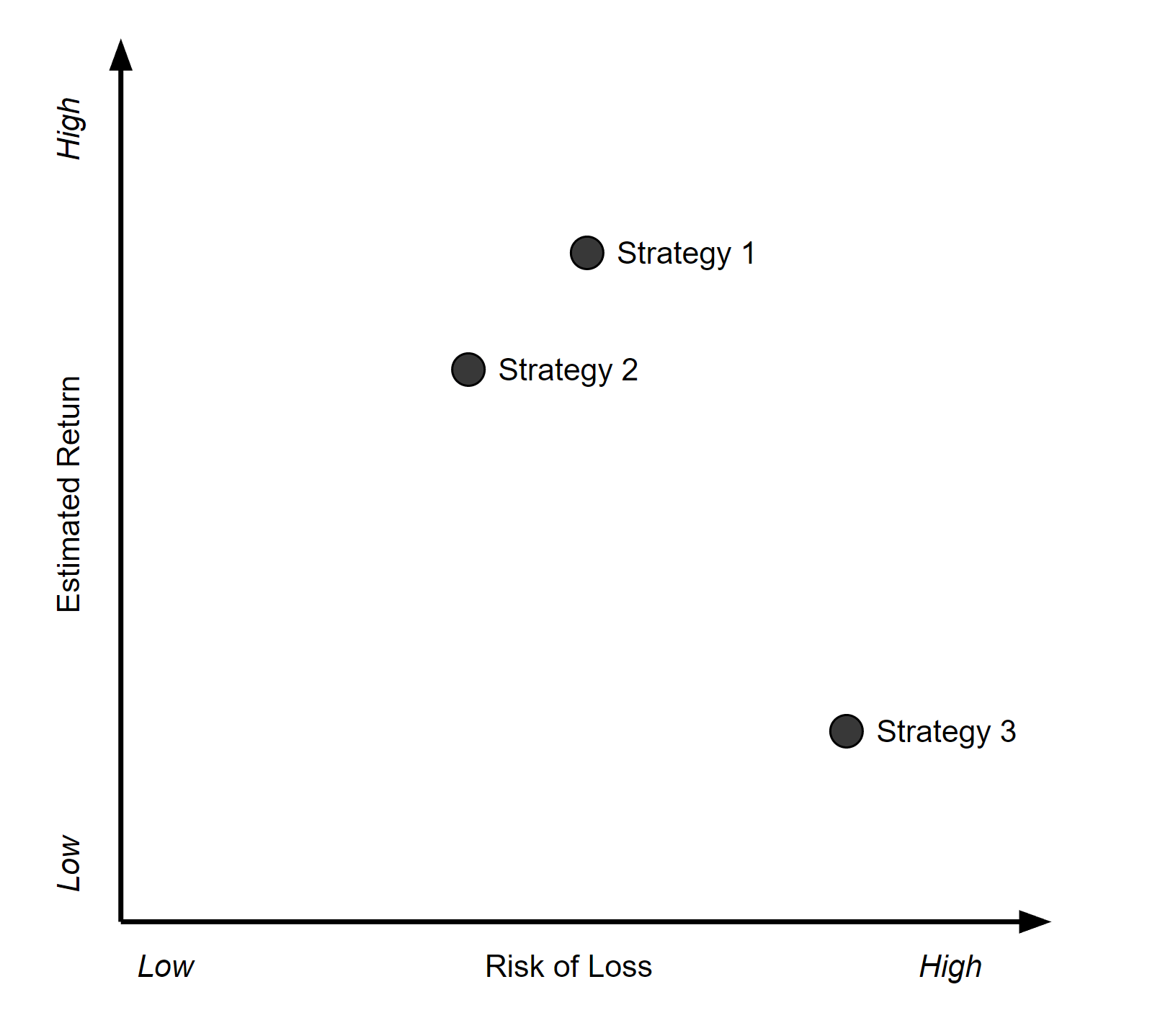 Needless to say that your strategies should not be radically different (e.g., Strategy 1 and Strategy 3) if you wish to target a homogenous investor segment. Conversely, you can create a diversified portfolio by combining polarised strategies. As an example, consider the following strategies with diverse levels of risk and return.
Example
A fully automated strategy with position adjustment techniques and a tolerated stop loss level of 5%. Minimum investment is EUR 100.
A strategy that enters a manual mode in the event that the drawdown rate exceeds 20%. The broker's leverage is 1:500.
A strategy with expected profit of 7% monthly and a maximum expected drawdown rate of 40%. No more than 10 positions are closed weekly.
Instead of explaining the content of your strategy on fingers, it is more advantageous to provide a 'trial' run to your client base. You can create a strategy that best represents your trading skills and then encourage investors to follow it with demo accounts via the cTrader Copy application. From a client perspective, this is a far safer option since real funds are not put at risk with a new money manager.

After your brand credibility has been validated, investors will be more willing to 'copy' your strategy with live accounts. Another essential benefit of cTrader Copy for your brand authority is that real-time statistics in an easily readable format are always on board for potential investors.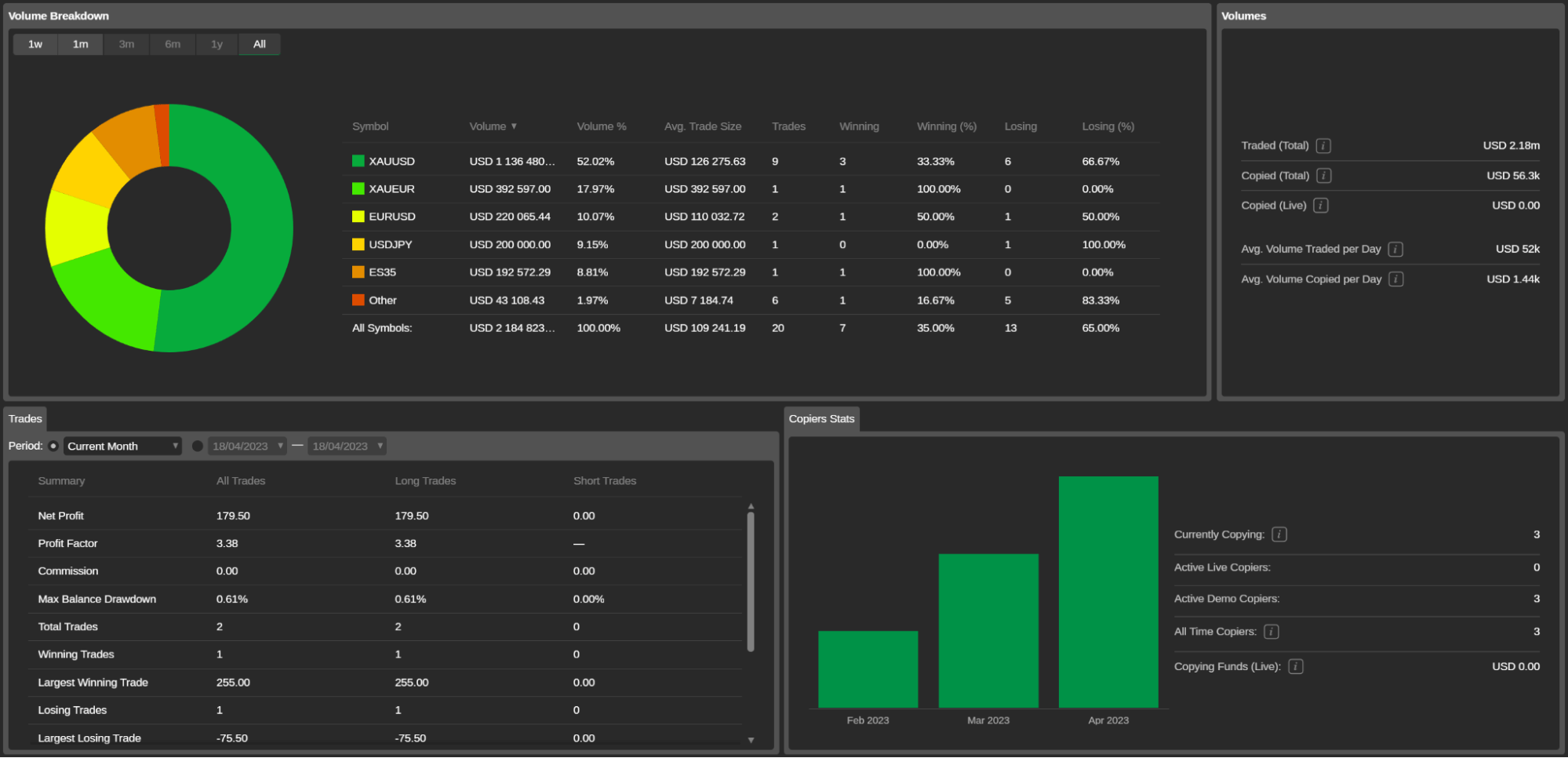 You can either comply with the strategy inclusion criteria to be listed in the 'Strategies' tab of the Copy application or distribute a link for strategy copying via your own communication channels. Alternatively, you can embed the strategy on a website that you own. Last but not least, your cTrader profile page automatically includes cards of all strategies you are providing and any strategies you may have favorited.
Craft the Message¶
Once you have defined yourself as a brand and come up with trial strategies, you need to communicate your brand message via all appropriate channels. Refining your message, remember that it should naturally flow from your brand essence (e.g., values, benefits, attributes, and personality) and remain in line with your strategic positioning.
The content of your message can be value-based, emotional, and experience-based.
Example
Value-based message 'Target profit is at least 1% monthly with only custom-developed and tested trading robots'.
Emotional message 'A low-risk Fibonacci strategy for exciting trading that would generate passive income for you'.
Experience-based message 'Try our trading approach from a team of risk management experts with 20 years of experience in Forex'.
After the message is polished and checked for compliance with what you can really offer as a money manager, it is time to think about its 'packaging'. Even not being a professional designer, you can outsource most brand identity elements (e.g., logo, landing page, etc.) to specialised services and AI-based tools. An overall recommendation for your personal branding and social media content is to use colors that psychologically arouse trust.
Note
Best practices in branding suggest that:
Blue color conveys a sense of security and professionalism.
Green color is associated with growth and profit.
White color delivers the idea of transparency, honesty, and credibility.
Grey color arouses associations with stability, reliability, and sophistication.
Red color is linked to power, energy, and increased motivation.
As platform providers, we know that the 'Strategy Description' field in the Copy application containing a money manager's logo, motto, brand message related to the strategy, and links to genuine customer testimonials increase brand authority and reputation. You can share MyFXBook stats, Trustpilot reviews or the recommendation rate from ProvenExpert to validate your brand promise. Add links to your profiles/channels on Telegram, Discord, Instagram, and Twitter. It is not the quantity of social media but the quality and regularity with which you post on them.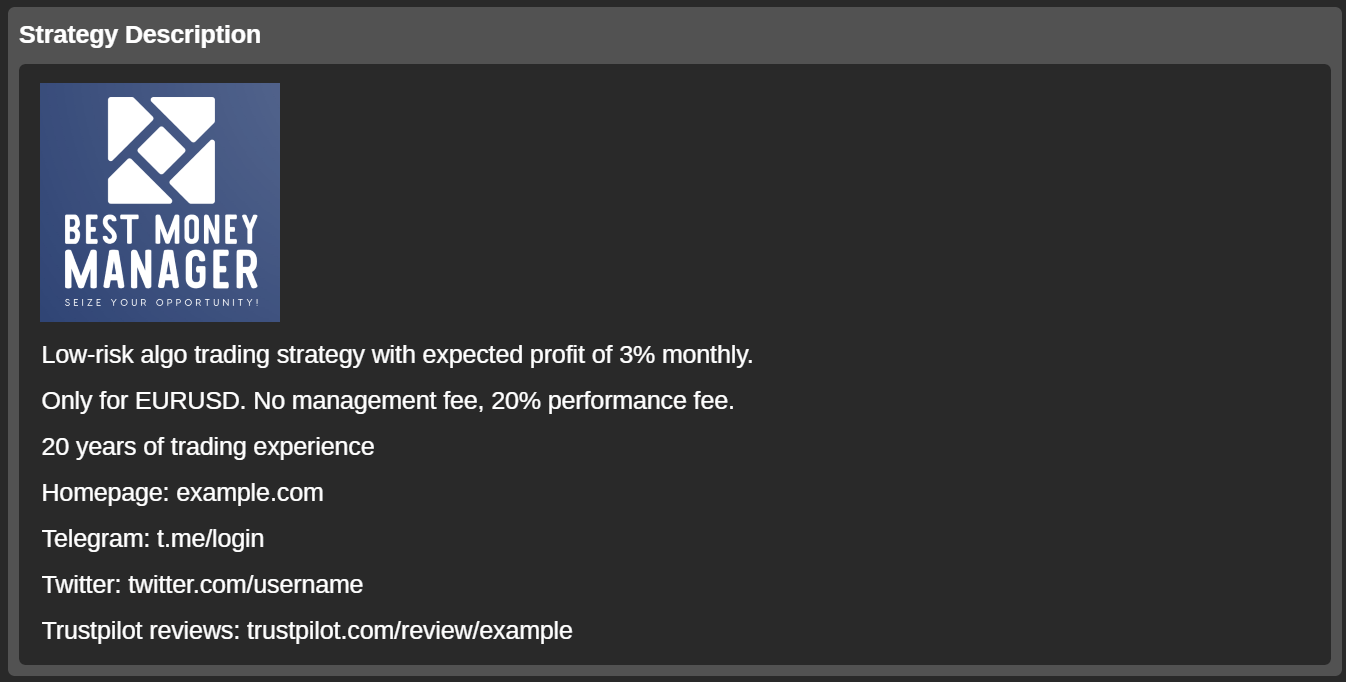 Expand your social media presence by spreading the brand message via all types of engaging content. We would like to showcase several examples below.
Define the Brand Offer¶
When your brand identity is delivered to the target audience and you have shared trial strategies, you should not miss the moment to expand your brand offer. Inside the cTrader ecosystem, you are fully equipped as a partner with multiple tools that stimulate investor involvement and build up your reputation across the trading community.
With the growing trust of your client base, start using the Shared Access feature in cTrader. Due to Shared Access, investors can grant access to money managers for trading on their behalf. Notably, transparency and credibility are not compromised since account owners can observe deals in real time, and access can be revoked/rejected at any moment. As a money manager, you cannot withdraw and even deposit funds on behalf of an account holder, which contributes to the overall trustworthiness.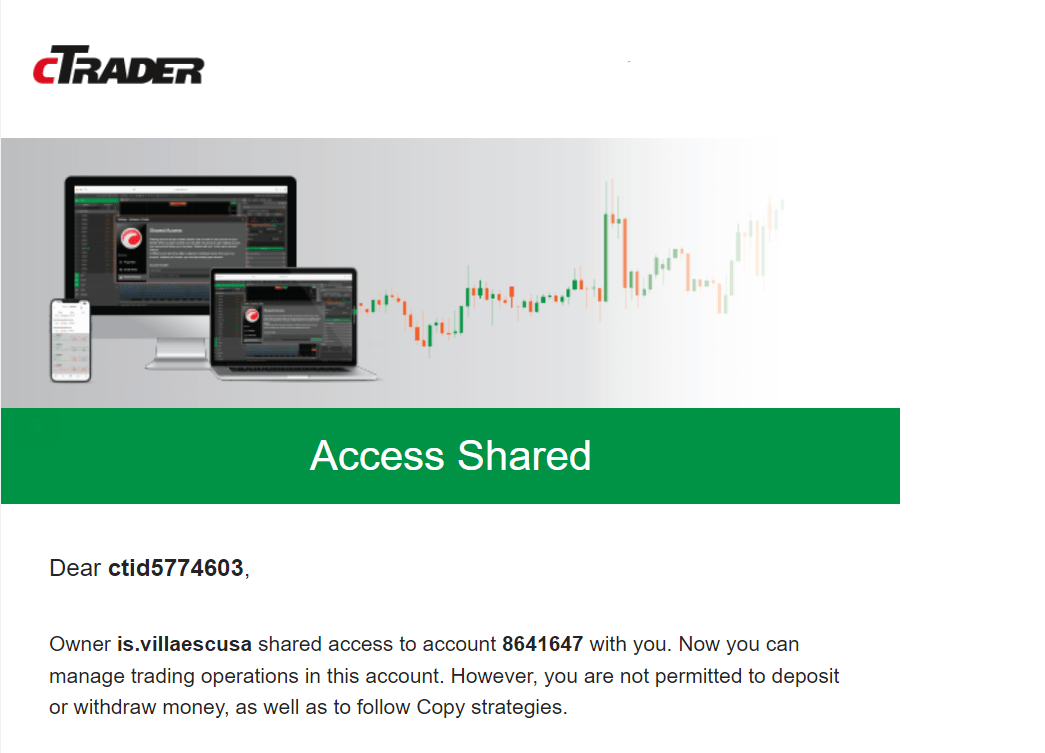 Note
Shared Access does not include a fee system, and all arrangements should be negotiated between you and your clients individually. This tool is less suitable for mass promotion on social media, as it implies a trust-based and continuous relationship between the partners.
The Automate application of cTrader offers rich functionality for sustaining your personal brand authority and expanding the brand offer. You can share algos with a source for a fee or free of charge. If an trader tries your bot and it demonstrates excellent trading results, your credibility will be validated this way. Additionally, you can start sharing custom-made indicators that do not trade and consequently do not involve any risk for clients. Customer loyalty will increase because it is the algo provider who knows how to adjust parameters depending on a symbol, timeframe, and other factors.
An investor would rather share access with a money manager whose bots and/or indicators have been tested. Hence, partner tools in cTrader work effectively in combination with each other moving clients down the sales funnel.
Create the Visuals¶
You have already created a logo, Instagram story templates, and eye-catching promo materials by this moment. However, what if live visual proof of your credibility existed? It does due to Chart Streams!
Quite randomly, your clients may come up with the following questions.
Is my money manager alive?
Is he working at the moment?
Is he as worried about the markets as I am?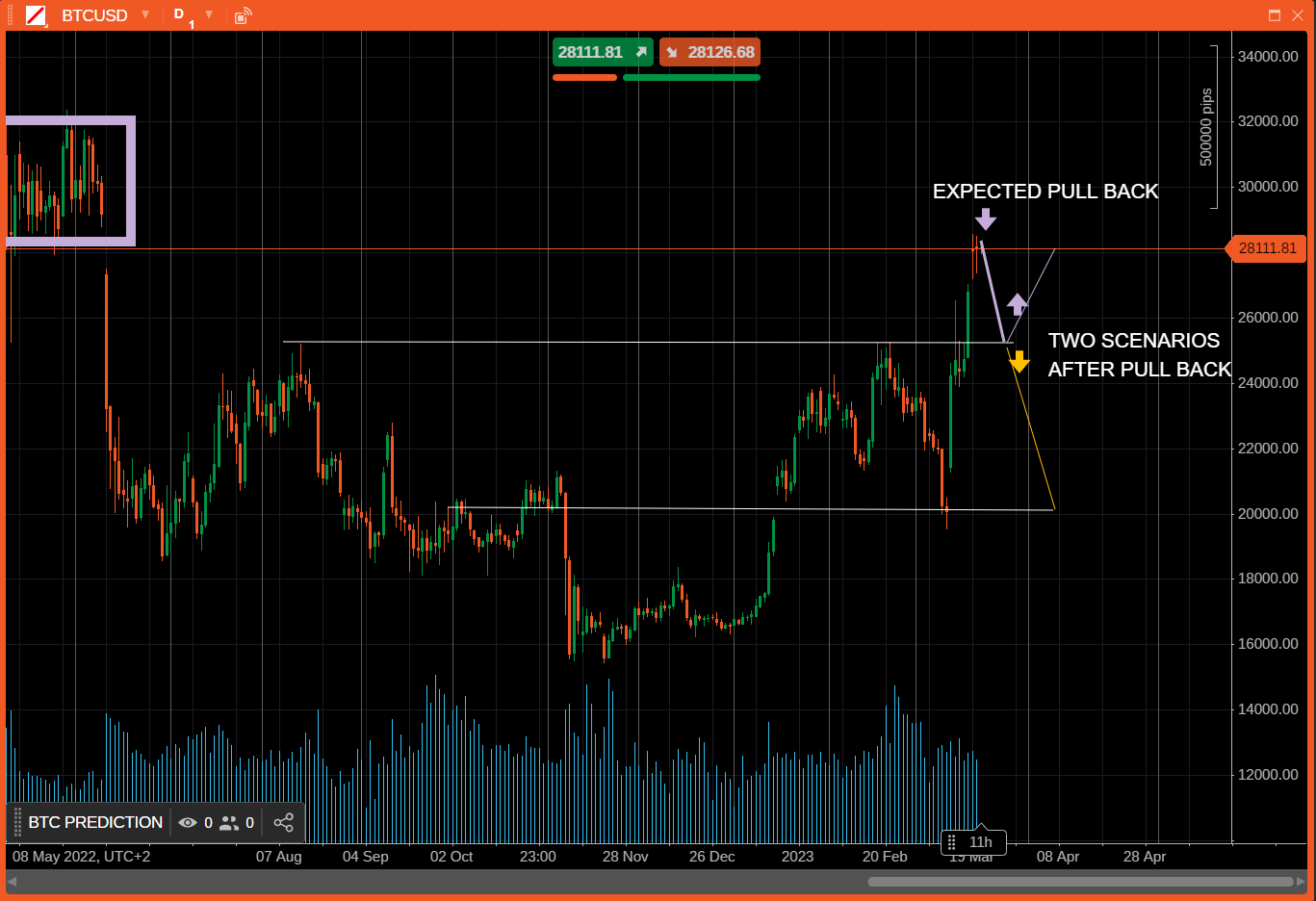 Chart Streams are a broadcasting feature for money managers built in cTrader, which allows for staying in contact with your audience 24/7. Potential clients can observe your technical analysis and insight about market movements in real time, meaning that the above questions will not even arise. There are no entry barriers for stream watchers, as logging under a trading account is not required. Together with the growing trust, new traders will register and transit from demo to live accounts. Additionally, Chart Streams will serve as indirect communication for current investors, and you will save time on redundant customer support.
Similarly to Investor Access and Copy, you can distribute Chart Stream links via all communication channels.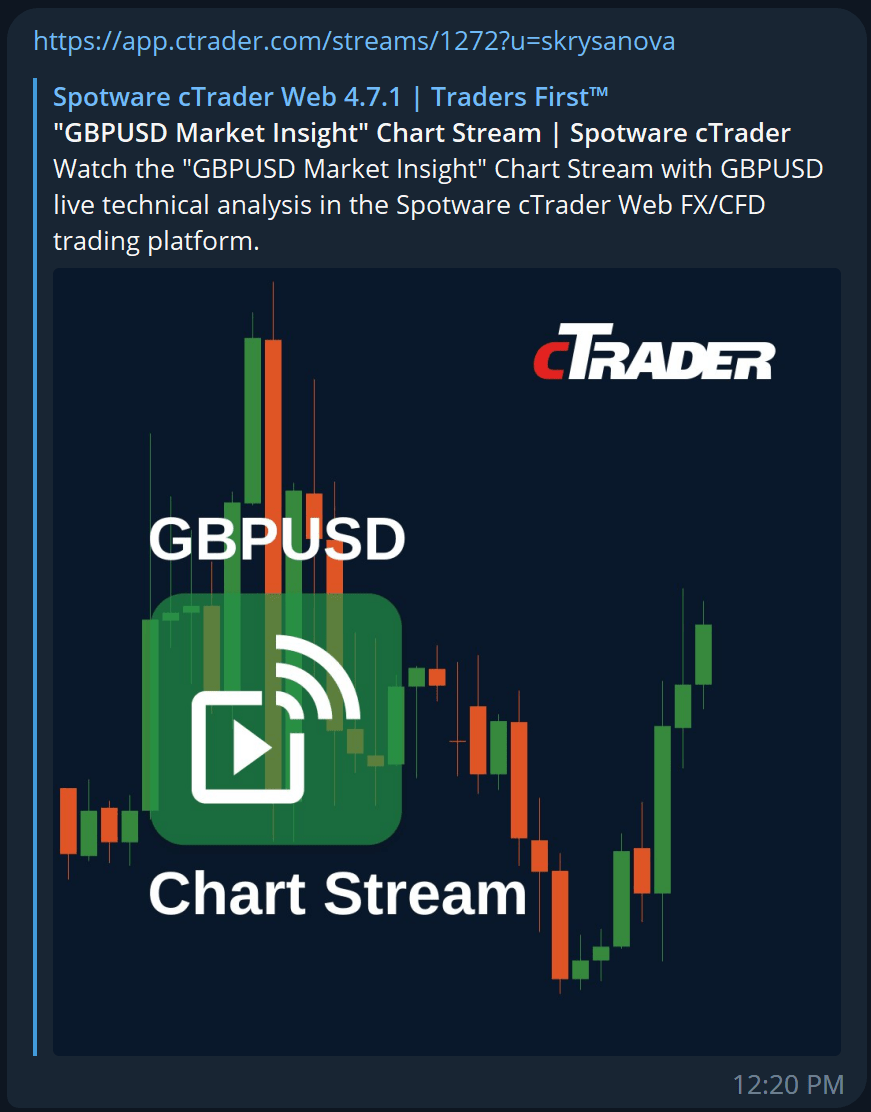 Tip
Regardless of the cTrader link type you are sharing, make sure that your nickname is present as a URL parameter in it. Any link from the cTrader ecosystem containing a partner's nickname (u=nickname) works as an Invite link and executes trader attribution in cTrader Invite.
Summary¶
As a money manager, you may struggle to build a trustworthy and credible personal brand. The good news is that the cTrader platform has already equipped you with multiple tools sustaining your authority and reputation across the entire trading community. Investor Access, Copy, Automate, and Chart Streams are among them. We encourage you to use the consecutive steps of the Brand Authority Method as a plan to arouse reliable brand associations from your target audience.
The next step would be to realise your full potential by becoming a partner. In addition to your current revenue stream generated from the client base, broker partnerships will offer fees for every active trader. With growing authority, you will be able to negotiate with the broker the implementation of new features that would facilitate the onboarding of new clients.
---
Last update:
December 6, 2023