Turn Leads Into Strategy Investors¶
As a strategy provider, your approach to trading is your key asset. However, your trading talent is going to be lost in the middle of nowhere unless you have a reliable and effective mechanism for turning new leads into loyal and engaged strategy investors. Achieving this goal is more complex than it sounds - you will not only need to trade well but also present your strategy as a marketable product going social across different communities.
Do not worry - this article is a practical guide to promoting your strategy and quickly acquiring more investors. We will be using the widely-known 4Ps of marketing (product, price, place, and promotion) framework to show that being a successful strategy provider goes far beyond trading.
Product: What Makes a Strategy Valuable¶
Note
Creating an attractive and accessible product is essential to convert leads into customers. You should be able to answer the questions.
What am I offering as a strategy provider?
What unique benefits are received by my investors?
Am I sufficiently differentiated from other strategy providers?
Think of yourself as a personal brand rather than just a trader - you have to offer something that is difficult to replicate.
The first step toward transforming leads into investors is creating a unique value proposition - something that differentiates you from the rest and is at the heart of your product. Think of your value proposition as your superpower. It has to be inimitable and reflect something that you can do extremely well.
Louis
The first provider (we will call him Louis) is a manual trader specialising in JPY. He has lived in Japan while working in the financial industry. He pays close attention to macroeconomic trends and exhibits a low-risk approach. Product-wise, Louis' value proposition is based on the following points.
Unique personal and professional background.
Focus on low-risk trading.
Limited trading scope (only trading symbols with JPY).
Mary
The second provider (we will call her Mary) is an algo trader and trading strategy provider who has a passion for C#. Mary's cBots are profitable but complex, meaning that they need to undergo extensive optimisation before being attached to a chart. Mary's value proposition reflects the following principles.
Strong experience in software development translated into coding cBots.
Versatile and reliable algos running in multiple accounts simultaneously.
Bot trading on a wide variety of symbols.
As you can see in the above examples, both Louis and Mary are strategy providers, and yet they could not be further apart in terms of their value proposition. One of the best ways to formulate one's value proposition is to consider your background, your approach to trading, the tools you are using, and transform this information into a marketable slogan. Here are some examples you can use for inspiration.
"My strategy is your way out of the rat race. Copy it, and you will see ROI like you have never experienced before - I always trade manually with few aids so that I have full control over the process."
"My trading algos are highly optimised, and follow the 'slow and steady' approach. My strategy eliminates all stress from trading by providing the means to earn passive income with minimal risks."
"I am a 'sniper' trader specialising in short-term trades. With me, there is never a dull moment - some may not handle it, but if you can stick around, it will be unforgettable."
It is important to remember that no value proposition is perfect. Louis' product relies on his proven track record of successful trading strategies. However, as part of how low-risk approach, Louis may not open new trades for days, automatically disqualifying his strategies from appearing in the cTrader strategy list. This is not a limitation because Louis can still effectively share his strategy as an Invite link that leads to the strategy and at the same time gains referrals.
Mary, on the other hand, knows how to develop an effective cBot. Nonetheless, it takes a long time to create an algo strategy that is effective across a wide range of symbols - time that could otherwise be spent on trading or marketing.
Place: Where a Strategy is Shared¶
Unless your strategy can be easily accessed by prospective leads, your progress in gaining new investors may stagnate. The place where you share your strategy is just as important as its value proposition, and it has to logically flow from your definition of its unique product attributes.
Louis
Louis has a dedicated landing page detailing what sort of a trader he is. This site includes an embedded Investor Access page that shows the key stats of Louis' account. Underneath, the landing page contains a large 'Copy My Strategy' button leading traders to cTrader. Louis also shares the strategy Invite link on forums and via an email newsletter. This allows him to gain new referrals immediately after clicking whether they actually copy the strategy or not. Existing referrals can easily approach Louis' own and favourite strategies in the 'Partner' tab of cTrader Invite.
Mary
Mary has multiple active strategies all of which qualify for inclusion in the cTrader strategy list. Mary has a landing page, but since she provides multiple strategies from different accounts, she does not have an embedded Investor Access page or link on it. Instead, she uses her profile page that is shown inside the 'Partner' tab of cTrader Invite. The landing page offers a 'Featured Strategies' section that contains embedded codes for Mary's top three performing strategies. Mary also has a dedicated Telegram channel where she shares Invite links leading to her strategies.
As you can see from these examples, Mary and Louis follow different approaches when it comes to sharing their strategies.
Note that the Investor Access screen contains several metrics detailing how well you trade including your ROI, profit factor, the total percentage of profitable trades, etc.
Tip
An Investor Access page can be shared as follows.
Via a link.
Via embedded code.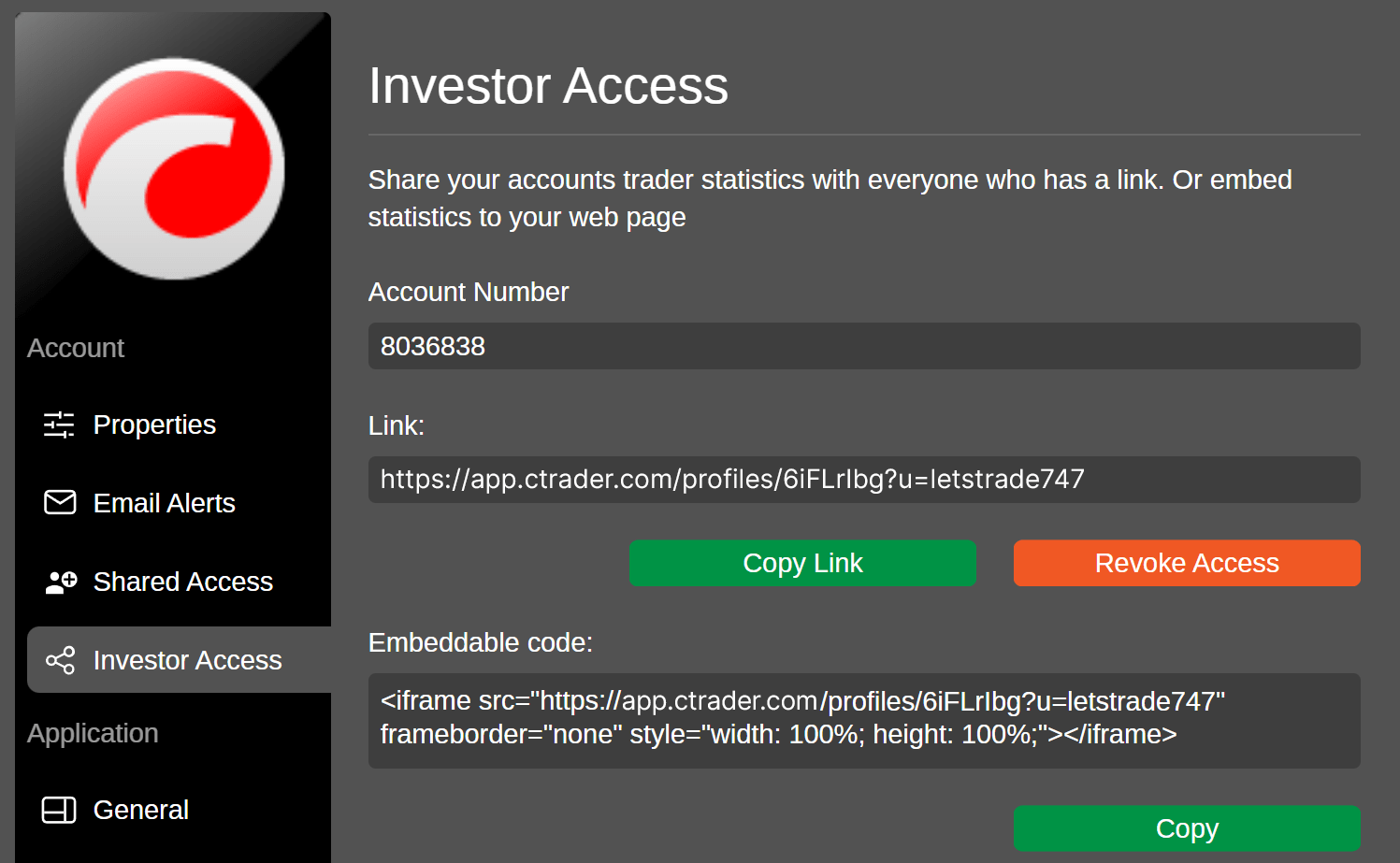 The below examples illustrate how you can use the Investor Access link as profile information and post Invite links leading to your strategy on social media.
Tip
Any cTrader URL containing a partner's nickname (u=nickname) works as an Invite link and executes trader attribution in cTrader. Make sure that your nickname is present as a URL parameter in the links you are sharing to enjoy the benefits of cTrader Invite.
By using these partner tools, you can make sure that your unique value proposition is reinforced by effective mechanisms for boosting your authority as a strategy provider.
Promotion: What Is Said About a Strategy¶
Without dynamic promotion, even the best strategies will struggle to pick up investors. As shown below, cTrader offers several features for promoting oneself and one's strategy directly from the platform.
Louis
Louis regularly hosts Chart Streams during which he analyses market reactions to new statements made by the Bank of Japan. These streams are provided every weekday after lunch; however, Louis also leaves his streams running during the weekend so that leads can access his past technical analysis. Inside cTrader, all of Louis' strategy descriptions include custom logos and brief text detailing his unique background.
Mary
Mary regularly visits Discord groups dedicated to algo trading where she discusses the API features and engages in community outreach without directly promoting her strategy. Mary hosts a weekly Chart Stream during which she runs one of her cBots and offers technical analysis that justifies how and why her algos trade the way they do. All of Mary's cBots can take ChartShots automatically, and she shares these ChartShots in her Telegram group to showcase the exact moments when her algos open/close positions. In cTrader, Mary's strategy descriptions link to her social media profiles.
A strategy description is the most obvious means of promotion, particularly if your strategy qualifies for inclusion in the cTrader strategy list. However, if you choose to share your strategy via Invite links only, its description is just as valuable for convincing leads that you are worth following.
By including key information and links to your social media and other online channels, you can build a solid personal brand and attract more investors to your trading strategies.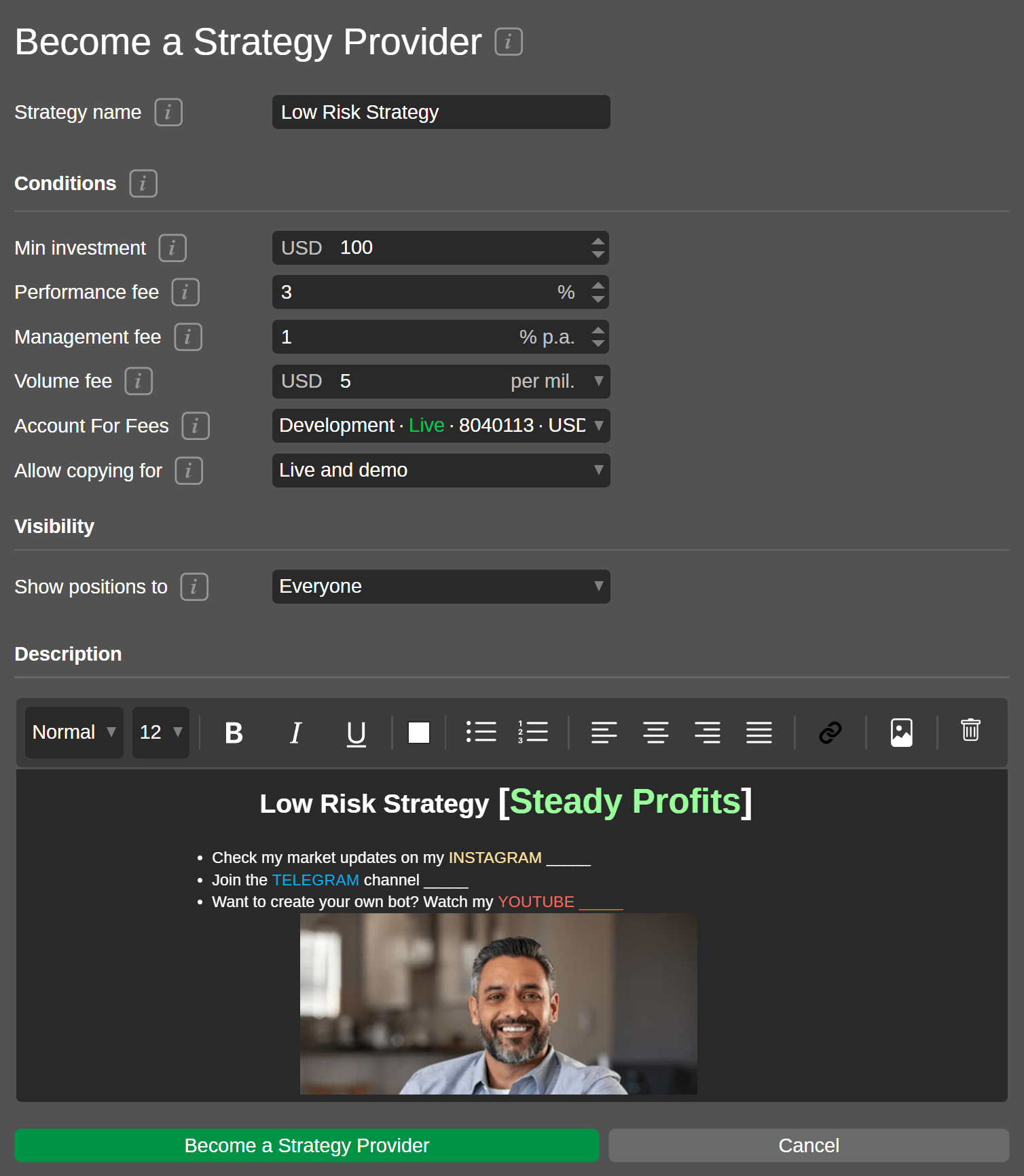 Price: How Much Your Leads Pay¶
Any selection of fees you are planning to charge for your strategy has to be consistent with your value proposition and promotional efforts. Note that price does not necessarily have to be material - it can also be measured in terms of investors' time and/or effort.
Louis
Louis charges a 27% performance fee and a 1 USD volume fee (the management fee is zero). This allows Louis to have a nice boost to his revenue by receiving 10 cents for each lot. Since Louis trades on a narrow selection of symbols, this strategy is justified. Louis is also considering creating a private strategy only for traders who tune into his Chart Streams.
Mary
Mary only charges a performance fee of 15% to help her differentiate from other providers who usually set it above 25%. As most of Mary's cBots place short-term trades, the individual per-trade profits are usually small, justifying a lower performance fee. To account for this, Mary charges a small (0.5%) management fee.
Both example traders charge fees for their strategies. However, you may consider providing strategies for free, and this can bring you even higher long-term gains. First, potential investors will be more willing to click on free strategies, and you will win more referrals due to cTrader Invite. Second, free strategies with good performance can attract more funds, and the overall trading volume of your referral base will mount.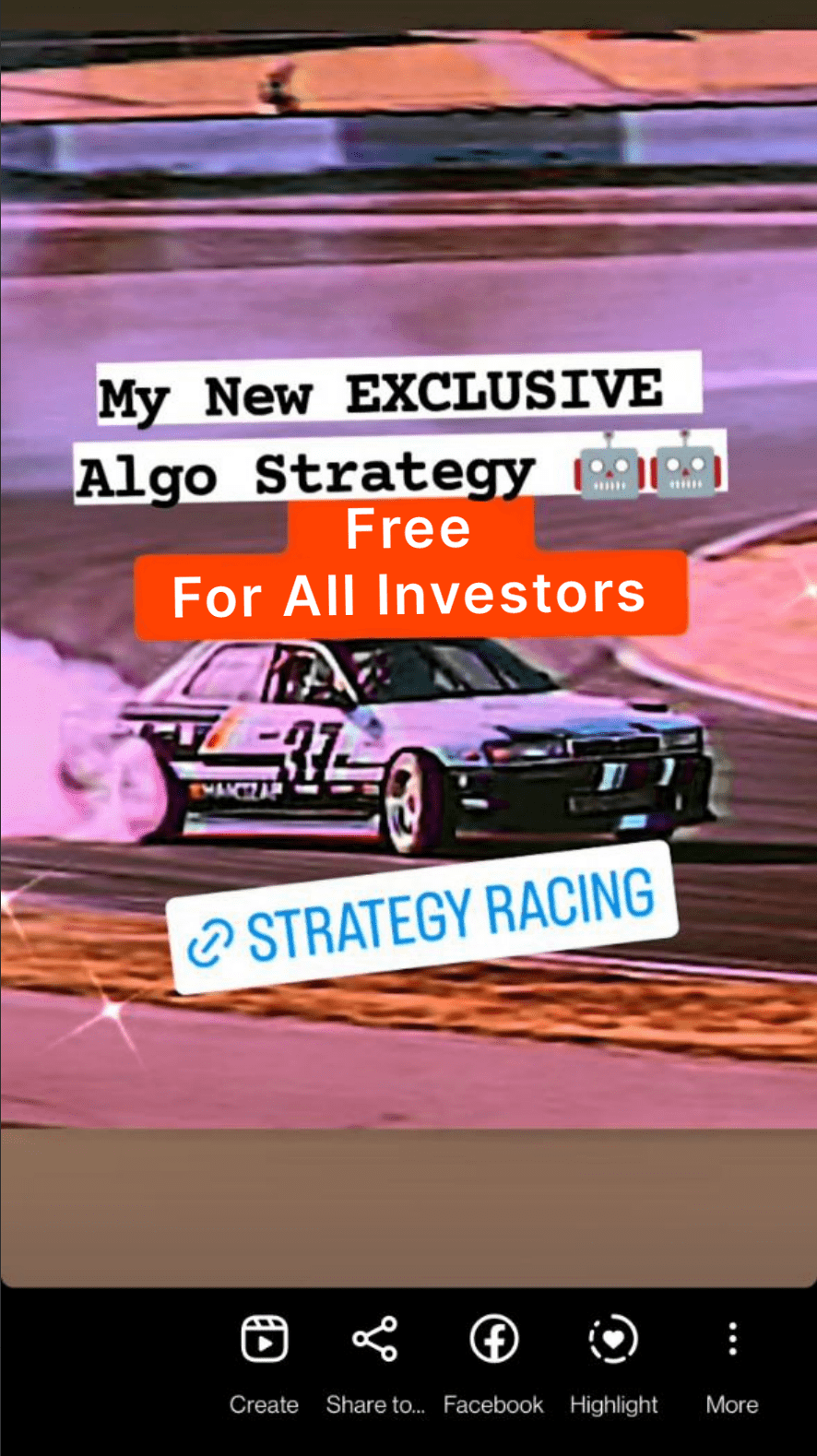 What Comes Next¶
You have now learned that gaining new live investors goes far beyond simply trading well. In fact, turning leads into strategy investors requires you to go social and take your marketing game to the next level. Now that you know how you can turn your strategy into a marketable product, you may consider partnering with your preferred broker (if you are not yet a partner).
cTrader's tools for partners we have reviewed in this article (i.e., cTrader Copy, cTrader Invite, Investor Access, etc.) enable partners to win more referrals, increase their volume of live trading, and increase the conversion of leads to active investors.
---
Last update:
December 6, 2023